Brief:
The LOC/Precision PK-30 Tri-Star 3" is a single staged kit that features three 29mm motor mounts for clustered flights with D, E, F or G motors. This is a new kit release from LOC/Precision but it is based on the larger OOP Tri-Star PK-68 ISP Performance Series kit (circa 1989) that featured three 38mm motor mounts.
Construction:
The kit features three 29mm motor mount tubes 22" long each, two cluster drilled centering rings, one 17" long x 3.10" diameter main airframe, one 6" long x 2.26" diameter payload tube, one AR-3.00-2.14 airframe reducer, one 2.26" plastic nose cone, one set of three pre-cut aircraft plywood fins, one nylon braided shock cord mount, one elastic shock cord, one ¼" launch lug, and one 28" nylon parachute.
The kit picture, specifications, and motor suggestions insert are printed on one side of a single 8x11 page with the 20 steps of assembly instructions printed on the back. There is one diagram to assist with the centering ring placement, motor mount assembly, and fin alignment. A notation on the front page of this sheet states "This kit recommended for persons with previous model rocket building experience". I do agree with this suggestion and found the instructions to be sufficient and easy to follow. If you have built a few LOC kits before attempting this one, you should have no problems understanding the assembly instructions for the Tri-Star.

The kit is shipped in a plastic bag with some of the smaller parts and parachute are packaged inside of a separate smaller plastic bag. All the airframe tubes, plywood fins, and centering rings are heavy duty and high quality. The nose cone and airframe reducers are very sturdy plastic.
No special tools are needed for construction and finishing of this kit. LOC recommends the following: modeling knife, 12" ruler, pen or pencil, sandpaper, masking tape, sanding sealer, paint brushes (assorted sizes), primer, paint, and epoxy (5 or 15 minute). I used 20 minute finish cure epoxy instead of the sanding sealer and 15 or 30 minute epoxy throughout the build along with Krylon spray paint and self adhesive monokote, so I didn't need the paint brushes. I used some tools in addition to these and I'll outline those during the steps where they were used.
You start by taking two of the motor tubes and epoxy these to each other length-wise and let cure. A piece of ½" aluminum angle bar is helpful in marking the lines on the tubes. I included a modification here for motor retention by cutting about a 4" piece of #8-32 x 36" all-thread rod and secured it with 30 minute epoxy in the valley of the two motor tubes with about 1-1/4" of rod extending beyond the bottom end of the motor tubes, then use a nut and washer on this to secure the motors in the tubes. You then epoxy the third motor tube directly on to and in the middle of the valley of the other two motor mount tubes. The centering rings are both attached to the same end of the motor mount tubes, not at opposite ends like most motor mount assemblies. A test fit verified both the centering rings would need some sanding before the three motor tubes would slide through them. You could hand sand this but I found it easy because of the curves to use a Dremel and a sanding drum to accomplish this quickly and to save time. The centering rings are then bonded to the motor mount tubes in the positions indicated in the instructions.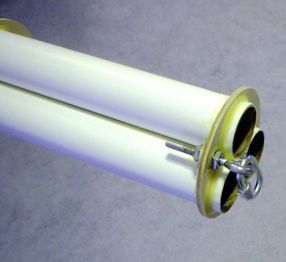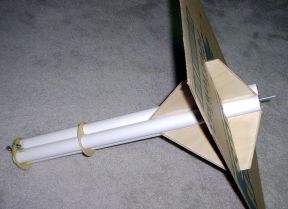 I eliminated the LOC shock cord mount and the elastic shock cord that came with the kit. I have used this mounting configuration and these LOC components in the past and have never had any problems with it, however, I wanted to use a Giant Leap Kevlar® 15' cord with the pre-sewn loops with quick links and attach it to an eyebolt secured through a hole I drilled in the top centering ring instead. The Giant Leap Kevlar® cords are extremely strong, flameproof, and make for a simple recovery system attachment. I highly recommend these cords and once installed you can pretty much forget about them.
The next step is to glue the motor mount assembly into the airframe tube. I decided to postpone this step until later and epoxy the fins between the motor tubes first. I found it easier to work with the fin mounting procedure without having an additional 17" of main airframe tube attached to the 22" long motor mount assembly. It's easier to handle this way. I beveled the leading and trailing edges and put a smaller bevel on the root edge of each fin with a belt sander, then coated each fin one side at a time with finishing epoxy. Normally you would not bevel the root edge of a fin however this step is recommended in the instructions and if you use wedge fin attachment it makes for a much better wedge fit between the motor tubes. I then sanded both sides of each fin with a palm sander and then bonded each fin into the motor mount tube valleys using a fin alignment template that I cut from a piece of scrap cardboard to aid with the fin alignment. I then attached the shock cord to the eyebolt with a quick link and fed the shock cord back through one of the motor tubes to prevent epoxy from getting on the cord. Finally, I bonded the motor mount assembly into the airframe tube.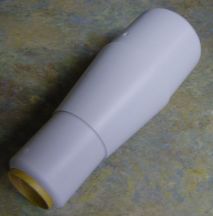 I did make a modification to the airframe reducer that came with this kit. The 3" side of the reducer has circles molded into it for 54, 38 and 29mm and the 2" side of the reducer has circles for 38 and 29mm. I assume this was in case you should want to cut out the size you need for a tube to make a complete penetration through both sides of the airframe reducer. I cut and removed only the 38mm circle from the top side of the reducer and inserted an 8" length of PML 38mm motor tube and butted this against the inside surface of the bottom of the airframe reducer. My intention was to use this for an altimeter tube to be accessed by removing the payload tube and nose cone. For this reason I did not bond the payload tube to the top of the airframe reducer per the instructions, instead I wrapped tape around the top of the airframe reducer for a tight fit so it can be removed later. There is very little room otherwise since the payload tube is only 6" long and the nose cone shoulder and top of the airframe reducer take up 5.125" of this 6" space. There was a step in the assembly instructions that said to assemble the bulkhead plate and epoxy to the airframe reducer but none was supplied with this kit. Perhaps at one time this reducer was hollow and required it, I don't know. Both flat sides of the reducer had eyelets already molded into them so no bulkhead plates were required.
I also replaced the supplied launch lug with a pair of BlackSky rail guides and used #8 nuts and a washer for each as a backplate.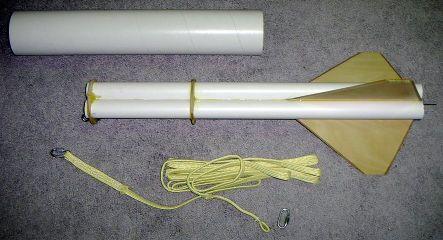 The rest of the assembly of this kit is much like any other LOC kit as far as parachute attachment and finishing are concerned. I did add a Giant Leap Rocketry Kevlar® flameproof chute protector that fit well inside the 3" diameter main airframe compartment so I wouldn't need to use wadding.
Finishing:
I used two coats of Krylon white primer for the motor tubes, nose cone, payload tube and airframe reducer. I painted the nose cone, payload tube and airframe reducer with Krylon "Red Glowing Orange Fluorescent" paint. I used Krylon "Ultra Flat Black" for the motor tubes and fins. I did not paint the main airframe and instead used white self-adhesive monokote for this and the checkerboards.
Construction Rating: 5 out of 5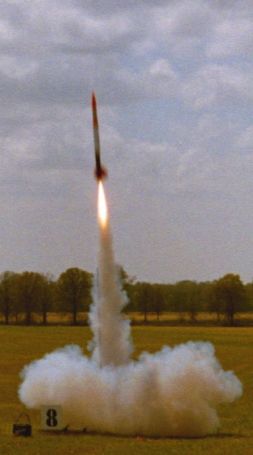 Flight:
Our launch "High Cotton XVIII" was held on Saturday March 27 and Sunday March 28 in Winnsboro, Louisiana. The weather prediction was partly cloudy with 10-15mph variable winds. The Tri-Star would be my last flight of the day so I began thinking about motor selection. Most of the motors I had with me were all low thrust types, AT F23-7FJ, AT G38-7FJ and EM G35-10 long burn. The first two rockets I had flown that day on the F23 and G38 motors had weather cocked some and I was considering not flying the Tri-Star at all. Many thanks to Eric Williams who came through for me and sold me three AT G80-7FWL motors that he had with him at the launch. I taped the ends of all three motors with a few wraps of masking tape and after inserting them into the motor tubes retained the motors with a small washer and wing nut tightened snugly on the all thread rod. I made a quick check to be sure the quick links were secured, the parachute was folded, and then wrapped with the Giant Leap Rocketry Kevlar® flameproof chute protector. I loaded the rocket onto a 72" rail and inserted three Quick-Burst Twiggy igniters that I purchased on site from Whitney Richard of Bayourat Rocketry.
Recovery:
Ignition was quick and the rocket had a straight boost on what was to be the equivalent of an H240. The parachute deployed on time although the rocket drifted somewhat but was recovered a short distance away landing without any damage to the rocket. Post-flight inspection determined that one of the G80 motors did not ignite so the Tri-Star actually made it's first flight on what would be a baby H equivalent of an H160. This was still an impressive flight nonetheless. However, it was only able to obtain an altitude of about 2,768 feet (compared to the predicted altitude of 3,714 feet). Since we only have two launches per year at this site and with LDRS scheduled to be hosted in New York, I will be unable to share any more flight data until our next launch here in Louisiana in October or November 2004.
Flight Rating: 5 out of 5
Summary:
PROs: LOC/Precision kits are heavy duty with many high quality kit components. LOC/Precision kits are a good value and haven't changed much since the first LOC/Precision kits I remember building back in 1986 and 1987. Barry Lynch has done a fine job with the Tri-Star 3" kit and his stable design is certainly what saved my rocket when only two out of three motors ignited.
CONs: None
Overall Rating: 5 out of 5