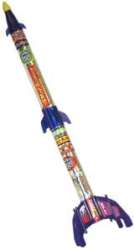 Brief:
I found this rocket on ebay, its by a company called Mad Science, and they produce science toys/activities. They only have one rocket in their range.
It is a basic rocket, very suitable for a first build for a young rocketeer.
Construction:
Parts are;
4 plastic fins
engine mount
engine hook
engine mount tube
body tube - silver
engine block (missing!)
adapter ring
sticker sheet
parachute
shock cord mounts
nose cone
fin tube
shock cord protector sleeve
The nose cone comes apart, and acts like a small payload section, it is also rubber tipped.
The body tube is silver colored but had deep spirals in it.
The motor mount is pretty standard.
The engine hook is attached to the engine mount tube, which has a pre cut slot in it.
The adapter ring is glued over the tube, and the whole lot is then glued into the plastic engine mount.
The four plastic fins slip easily onto the mount.
The body tube is glued over the adaptor ring.
(I would usually add a Kevlar cord to the rocket, but decided to build it stock - I will not be flying this one much)
A middle fin section is then slide over the body tube, this section has the launch lugs built in.
A shock cord is added, via the tri fold anchor method, and the nose cone is then attached - I added a swivel to the shock cord.
Stickers are then added, there are lots, with many different finishes, a nice touch for a young rocketeer.
That's it, takes about 10 minutes to build.
Construction Rating: 3 out of 5
Flight:
Flew her 4 times.
On an A8-3 she's okay, not too high, ejection after apogee
On a B6-4 she's better, straight flights on both occasions, opens at apogee.
On a C6-5 she rips, only flew once and she arched over and landed in the middle of a wood - missing every tree on the way down.
The parachute supplied gives a good descent rate.
A B6-4 gives the best flight.
Flight Rating: 4 out of 5
Summary:
As a starter rocket for a child getting into the hobby, this is an excellent rocket, easy to build, looks good, great range of sticker and flies well.
Overall Rating: 3 out of 5