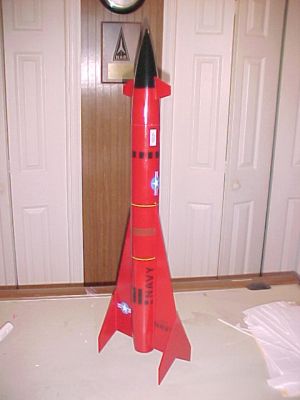 Brief:
The Madcow Rocketry AQM-37 Jayhawk is a high quality mid-powered kit that is a close scale to the US Navy's target drone.
Construction:
The parts list:
2.6" heavy wall body tube
Aircraft plywood fins and centering rings
Shock cord, chute, and even a Nomex® heat shield
Balsa nose cone with unusual ballast compartment
High quality decals
The first thing I noticed is the way the kit was packaged. Everything was neat and protected. The decals were covered with tissue paper and were sandwiched between cardboard to keep them protected. Even the balsa nose cone was wrapped to keep it from being dinged during shipping. The smaller components were sealed in a smaller bag to keep them from moving around. This has to be one of the best packaged kits I've ever seen
The kit is well designed with through the wall fins and even a laser cut tab/slot for mounting the winglets to the main fins. Everything, including the airframe, is laser cut.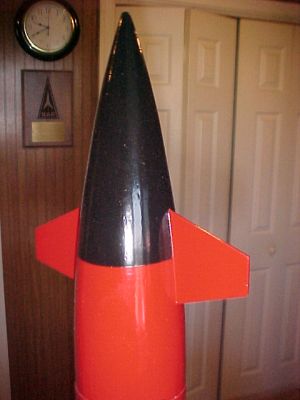 The directions were easy to follow with instinctive and straightforward steps.
This kit has a unique nose cone assembly. Like other Madcow kits, rather than the nose cone being simply inserted into the body, you glue the nose cone into a coupler with a bulkhead. This creates a space for you to add nose ballast to shift the CG forward. I absolutely love this feature. The kit comes with a pre-measured bag of shot. I simply mixed the shot with a pump of West Systems and poured it into the nose cone cavity. Although I don't like balsa nose cones, this was a good one and pretty easy to finish.
Finishing:
As with all my kits, I primed it with several coats (sanding in between) of Rustoleum sandable primer. A few coats of an "orangey-red" paint finished the painting. The two sheets of decals are precut and the highest quality, not that Alps or color printer stuff that's plaguing the market. My kit finished out at 22.6 oz.
Construction Rating: 5 out of 5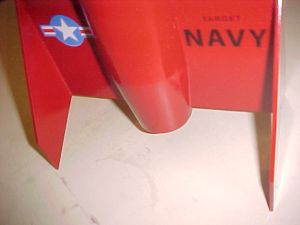 Flight:
They list several F motors for the kit that take it from 820' to 1,000', but this kit could easily handle G and H motors. They do tell you that you can use larger motors, but you may need to add nose weight. First flight was on an F40-4W.
Recovery:
If the quality of the kit wasn't enough, the kit comes with a very nice rip stop nylon chute and a Nomex® heat shield. The well designed recovery system deployed just fine and returned her back unscathed.
Flight Rating: 5 out of 5
Summary:
This easy to build kit has all the quality and precision as the other Madcow kits available. The finished rocket is pleasantly unusual and correctly detailed with the canards in the correct position on the nose cone.
Overall Rating: 5 out of 5