Brief:
This is a minimum diameter Hobby, mid, or high power rocket. It's motor selection is expansive and offers extreme height with the right motor loaded.
Picture Courtesy of Madcow Rocketry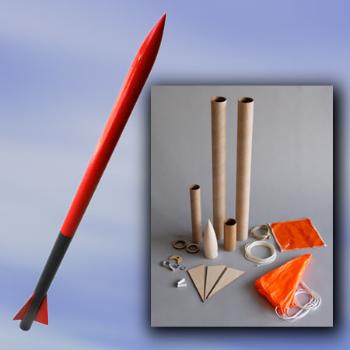 Construction:

(2) Body tubes
(1) Balsa wood nose cone
(1) Coupler
(1) Shock cord anchor
(1) 1/4"eyebolt, nut, and washer
(3) laser cut fins
(1) Kevlar® SC section
(1) nylon SC section
(1) 6"x6" Nomex® pad
(1) 18" parachute
(2) 1/4" Launch Lugs
(1) 8" 29mm MMT
(2) Plywood centering rings
The instructions given are content, but are very explanatory. I am 12 years old and built this rocket with ease. I used 5 minute epoxy throughout the whole project.
The first step was to glue on the fins. My decision was to do those last. By the way they are not TTW fins. Then I started with the shock cord mount. It was a plywood ring in the shape of a crescent moon. I applied epoxy to the bolts and slid that part into place.
Next I tied a knot with the Kevlar® cord around the SCM and applied epoxy to permanently secure it. I tied the two SC sections together and applied epoxy to the knot.
Next was the coupler. I placed the coupler halfway in after applying epoxy to the tube and let that set. I epoxied the SCM to the rear end of the coupler in the tube as directed.
I then proceeded to gluing the body tubes together. Nothing unique here.
I chose to use the 29mm mmt for this rocket. I epoxied the centering rings on 1/2 inches from each end and let it set.
After it dried for a day I glued the MMT into the body tube. I made a minor mistake here. When gluing, The MMT is supposed to be flush with the end of the body tube. I left a 1/2 inch section sticking out from the bottom. This didn't cause any problem in flight.
I attached the shock cord to the nose cone by pouring epoxy in the already drilled hole and stuffed the shock cord inside it as directed.
The reason I left the fins to do near the end was because they would get in the way while completing the other steps. My Dad and I drew the lines for the fins and launch lugs with a meter stick using the fin alignment guide that was given. We applied epoxy to the fins stuck them on the body tube and watched each of them individually for ten minutes.
Finishing:
Nothing special her. all I did was use 3 coats of Krylon white primer. Then painted the top half Krylon flat black and the bottom half rust-o-leum red.
I used a stake and put two nails 180 degrees apart in the stake and slid the rocket on it for an easier paint job. There were no decals which didn't matter to me at all because the rocket still looked great. No sanding was needed at the end because everything was smooth.
Construction Rating: 5 out of 5
Flight:
My first launch with the Screech was at El Mirage Dry Lake Bed on October 20/2008. I prepped it for an Estes E9-6 anxious to see the outcome of its maiden flight. It slowly lifted off and the motor burned for a nice 2.8 seconds. It arched over without deployment. It sped down to the ground and finally it came under chute. That long delay of a delay was too much. It flew perfectly straight. The Nomex® was a lifesaver and I used friction fit for motor retention.
The next motor was a G79-10W. After easy but careful preparation, I set it out on the pad. It was the largest, most powerful motor that day so everyone was paying close attention to it. Because the pads are only about 12 feet away the thunderous roar made everyone jump. I watched in awe as thee rocket climbed to over 500 mph. Its estimated altitude was 3160 ft. It must have either weather-cocked or the rod was tilted because I looked for over 3 hours in the desert plants with other scouts and adults. When everyone who was helping me find it turned back, I got my mountain bike and kept looking even while dehydrated. I wasn't coming back to camp without that rocket. I finally found it probably a mile away from camp. It was over a no trespassing fence. I thought the heck with it, hopped over retrieved and left. I biked as fast as I could to camp holding it up like a trophy.
Later I flew it six more times that day on E9-6's and E9-4's. In the future I will try a D12-3 and more powerful G motors on this rocket.
Recovery:
Lots of Drift. Maybe I will try a slightly smaller parachute next time. Took 3 hour to find. The motor tube is burnt a little and so is the lower airframe. I am not sure if this is bad.
Flight Rating: 4 out of 5
Summary:
In summary this was a high quality kit. TTW fins would be nice. The flights were great and many more are to come. the construction was a breeze. This minimum diameter rocket has a lot of potential.
Overall Rating: 5 out of 5
Other:
Great Kit. Fun and easy to build. Flies high and fast. Large motor selection. Nothing wrong with it. Great customer service.