I tested my shear pins for strength as shown in the picture below. With the nose cone pinned with a single pin,
I pushed down on the payload tube till the nose cone separated, and watched the scale for the force required to break the pin.
The pins I tested were Evergreen styrene rod with 0.0625 and 0.080 inch diameter. I repeated the test 5 times for each size rod
and got consistent results. The 0.0625 inch rod sheared in the 20-25lb range and the 0.080 inch rod sheared at about 30-35 lbs.
For the payload tube/main deployment I plan to use 3 x 0.080 rods to give about 90 lbs. minimum protection against separation at apogee,
which works out to be about 90 gees, since the nosecone and internals weigh about 1 lb. For the drogue side/ lower airframe joint,
I chose to use 3 of the 0.0625 inch rods as pins, providing a minimum of 60 lbs. resistance to separation force after burnout. Actually my
calculations, based on mass and drag coefficients of each half show that the lower half is not subject to drag separation, so this is
just for added insurance, or peace of mind.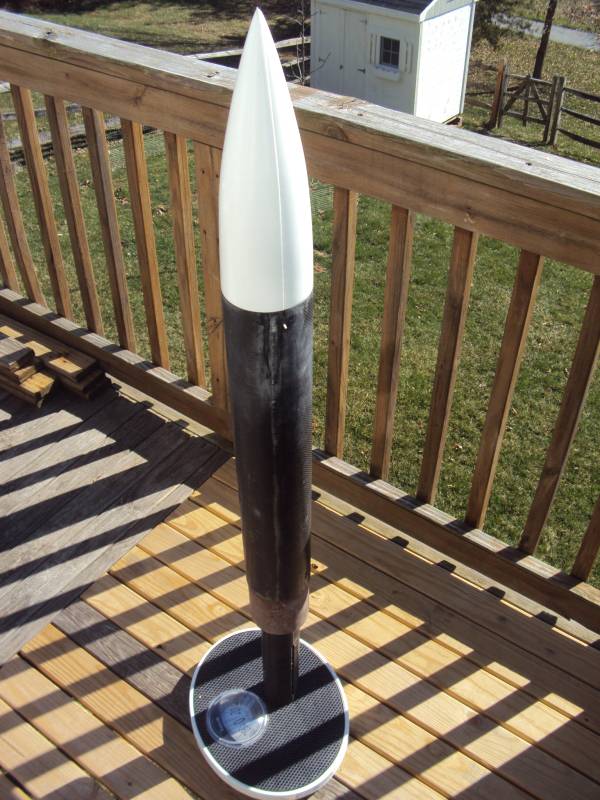 For ejection charge testing on the main, 1.5 grams was a little weak, 1.75 was good, and 2 grams was maybe a little too much.
For the drogue testing 1.5 grams provided pretty decent separation. For an actual flight, for the main, I plan to use 1.75 on the
primary charge and 2 grams on the backup charge. On the drogue side, I plan to use 1.5 grams and 2 grams as backup.
Here is a shot of the 2 gram test of the main deployment.