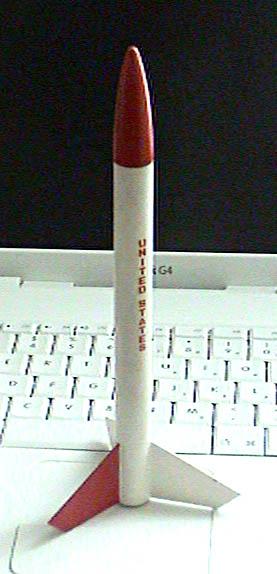 Brief:
This is a simple, high-performance, great looking rocket from the 70s.
Construction:
The kit includes engine tube, engine block, paper shock cord mount, launch lug, shock cord, streamer, screw eye, nose cone, 14mm inside diameter body tube, decals, and 3 die-cut fins.
Plans are available online from Ye Olde Rocket Plans
PROs: Build is as easy as it gets for a normal 3FNC rocket. Instructions are excellent. The only deviation from a minimum-diameter design is that MPC in the early years used a 14mm ID main body tube and you glue in the 13mm engine mount.
CONs: If you slow down or stop while gluing in the motor mount, you're sunk. This may also have come with the old yarn-style shock cord, which only lasts for 2-3 launches. I throw those away and put an elastic cord in.
Finishing:
I gave the fins an airfoil shape and filled the tube spirals for a really elegant finish. No special tools needed.
Construction Rating: 4 out of 5
Flight:
Used 1/4A3-3T, 1/2A3-4T, and A3-4T motors. Simple prep with wadding and streamer. Friction mount engine retention. Flights are perfect, straight, high, and hard to see.
Recovery:
Perfect flight recovery.
Summary:
A beautiful rocket that draws "Wow. What was that?" comments from the jaded HPR guys. Flights are high, fast, and straight. Hard to kill.
Overall Rating: 4 out of 5