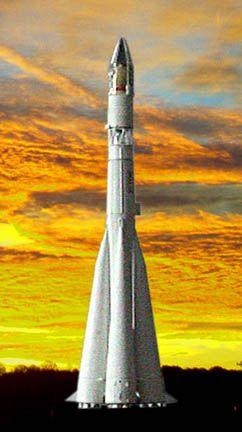 Brief:
An OOP plastic scale model from the late 1960s and early 1970s which can be built for flight or display, either as Vostok or Sputnik.
Construction:
Materials for flight: 19mm paper inner body tube, 18mm engine tube, engine block, engine hook, clear plastic fins, shock cord, and 20 inch mylar parachute.
There are approximately 30 styrene plastic parts for the static and flying options.
There are no special tools needed for this kit. The plastic parts glue together with plastic model cement and there are some optional pieces for flight versus display, such as 2 portions of body tube with launch lugs molded in and clear fins that are larger (although not obnoxiously so) than the scale fins. I used enamels in white, red, and yellow for the main rocket and small amounts of dark blue, tan, and brown for the cosmonaut.
The instructions are straightforward and contain well drawn exploded views (rather than the more-common multiple-step approach).
I'd give it a skill level of 2.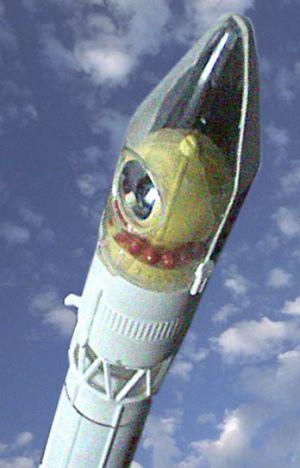 There's one big gotcha if you want to fly this: It is heavy with limited space for a parachute. The main paper body tube is 19mm in diameter and only 9 inches in length. While an attempt was made to stuff in the supplied 21 inch thin mylar parachute on the first flight, and an 18" on the second flight, I only got successful deployment on a 16" chute. Because of the weight, I replaced the 1/8" original shock cord with 1/4" and that further exacerbated the space problem.
Finishing:
It's fairly easy to assemble. Just lots of pieces. The quality of the molds is good with fairly good seams and little flash to trim. You get clear, chromed, and white plastic parts. The waterslide decals are limited, but high quality.
Construction Rating: 4 out of 5
Flight:
The first launch was on 5/21/05. The only recommended engine is C6-3 (a B6-2 probably wouldn't achieve enough velocity for stability off the pad although the delay is short enough). Flight is arrow straight without spin and impressively slow with apogee at ~300 feet. Someday I may fly it once with a D10-5 AP motor but other than that, it's retired.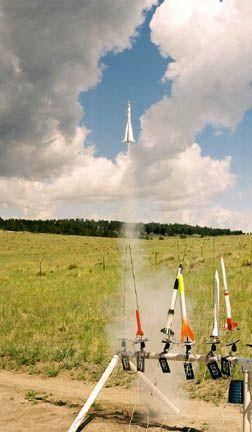 Recovery:
Ejection occurred at half a second past apogee, but the 21" thin mylar parachute got singed and never opened. A couple of the side boosters broke off as well as a couple of the clear fins. After repair, a second launch was attempted at COSROCS on 5/28/05. While I downsized to an 18" plastic chute, the fit was still very tight, so much that I had to continually push the nose cone into the body tube in order to get it to stay. The result is that the nose cone came off in flight. It crashed, breaking two boosters, 3 fins, and losing a couple of small trim pieces. The third launch was COSROCS on 6/11/05. I added a little tape to the nose cone shoulder to tighten it a little and a poly 16" chute which deployed well. A cottonwood caught it, breaking 2 fins. I climbed the tree and recovered it.
Flight Rating: 2 out of 5
Summary:
These are beautiful display models (if a little small in stature) and are selling for around $65 unopened on eBay but are extremely rare. I'm not sure I'd try to fly it at that price, but if you do, use no larger than a thin mylar 18" chute or 16" poly chute. Wrap it very tight and use talc so it'll open. On a 16" chute, you may break a piece or two off at landing, but life is a series of compromises, isn't it?
Overall Rating: 4 out of 5