Estes - Renegade (1271) OpenRocket Design File
Contributed by Wolfram v.Kiparski
Comments: Produced by Estes 1975-1981. Design modified by using longer coupler and shifting motor mount 0.5-inch aft so that motors can be taped in rather than use traditional motor blocks and clips.
Designer: Wayne Kellner
Download Renegade.ork
To use the design file above, you need a copy of OpenRocket, a rocket design and simulation program.
Kit Name: Estes - Renegade (1271)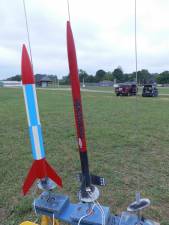 What You Can Do