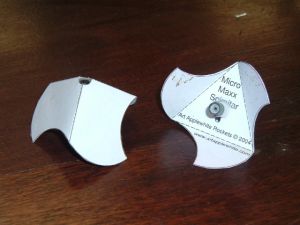 Brief:
Having built all of Art Applewhite's 13mm paper rockets, I'd thought I'd have a go at the baby versions: the tiny MMX paper rockets. There are four per sheet, two Qubits (one called dicey), a Scimitar, and a Stealth. They are nearly the same as their bigger brothers except they are vented at their apex--MMX motors don't come in a plugged version. This review is for the MMX Scimitar.
Construction:
The kit is contained on a single A4 sheet with four rockets on it.
There are no instructions on the page, but the MMX Scimitar builds like it's bigger version. With only three parts though, it doesn't take much figuring out.
Cut out all the parts and score the dotted lines with the back of a craft knife guided by a steel ruler while taking care not to score too deep.
Make the motor mount by wrapping the paper around a spent MMX case and then take the case out immediately. The engine block is quite tricky to make, as the width is only a few millimeters wide. After all the pieces have dried, glue the block in the mount and the mount in the body.
Fillet carefully and don't use much glue as this is a very light rocket. The whole process takes about 15-20 minutes to complete.
Finishing:
I usually spray paint Art's rockets, but as these are so small and light that I didn't bother with the first few. I was a little worried that the extra mass could affect the rocket's flight, however, I have spray painted a few and the paint doesn't affect the flight noticeably.
Construction Rating: 5 out of 5
Flight:
With the very low power of Quest's MMX motors and the relatively large surface area of the rocket, I was not expecting a huge altitude.
On the first flight the rocket went straight up with a good spin. I guess the height was between 20-25 feet. It landed literally on the pad. Perfect. Second and third flights were with a another Scimitar rocket (as I've built 14 MMX rockets this week). Each flight was the same as the first except they don't all land on the pad.
Recovery:
It comes down on featherweight/tumble recovery. You could launch this in a gale and it couldn't land far from the pad.
Flight Rating: 5 out of 5
Summary:
Well it's free. The fights aren't spectacular, but it performs well every time. Everyone should try one--just for the cute factor if nothing else.
Overall Rating: 5 out of 5