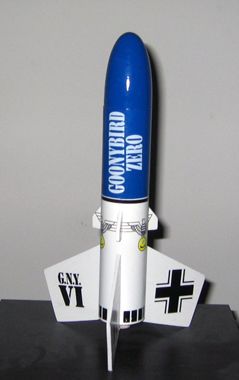 Brief:
The Goony Bird Zero (GBZ) is part of Excelsior Rocketry's retro bash line of goony kits. It is based around a Baby Bertha kit, using all components except the fins and the decals.
Construction:
When you buy one (or two or three) of the goony's you get a sheet of instructions, templates for cutting new fins, and a sheet of really nice quality decals.
There are two fin templates for the GBZ, one for the larger lower fins and one for the smaller upper fins. I had a small problem with measuring where to put the small fins, as it wasn't clear at first if the measurement was for the leading or trailing edge of the small fin. Other than that, construction was very straightforward and things went together well.
Finishing:
I used a couple of coats of Aerogloss spray dope, along with sanding in between coats to seal the fins. I then painted the whole model gloss white. I masked off the bottom half of the rocket and sprayed the nose and upper half with True Blue. I let that all dry and then started on the 14 decals. That's right--lots of decals. They were great to work with--even the eagles that have to go across the smaller fins and around the tube. I let the decals set and then put on a layer of clear gloss. It had a small reaction to the paint but the decals took the clear coat just fine.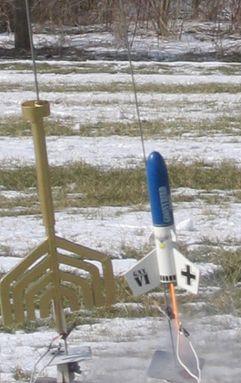 Construction Rating: 4 out of 5
Flight:
I've flown the GBZ a couple of times on B6-4 motors and I like that combo. I was surprised to hear my model whistle on the way up! It must be just the right spacing between the fin sets. I've also flown the rocket on a C6-7 for high altitude.
Prepping is typical modroc: put in some wadding, pack in the chute, insert the motor, and igniter and away you go.
Recovery:
Shock cord is connected by the standard Estes mount. I replaced the short elastic with a longer piece from my building box. I also used a 9" nylon chute as I had plenty of them on hand.
Flight Rating: 5 out of 5
Summary:
This is a great looking sport model. I have several of the other Retro Bash sets and am trying to decide which one to build next.
Overall Rating: 5 out of 5