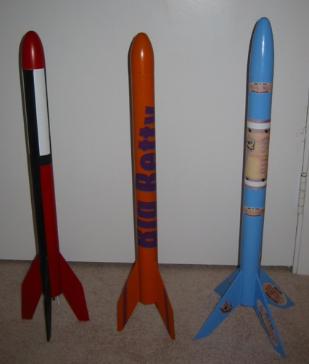 Background:
This spring I ran a build session for faculty kids at the school where I teach. I ended up using the Quest Bright Hawk for the 7-9 year olds and the Quest Big Betty for the 10-12 year olds. After the build session, I began thinking about the types of rockets that would make great first builds for a budding rocketeer. I wanted to select rockets to compare that had the following in common:
BT-60 body tube
Parachute recovery
Balsa fins
Engine hook motor retention
Reasonable Price
Stable flight performance
A rocket that can fly on small athletic fields and can be viewed in all aspects of flight. In other words, no Alphas, Wizards, or Vikings.
I ended up selecting 3 rockets that fit these criteria. The Estes Big Bertha, the Quest Big Betty, and the Fliskits Rhino.
Click Here for the Comparison Article.
Construction:
The Big Betty is a pretty simple build. The only trick to the Big Betty is also a positive: construction of the motor mount with the Kevlar recovery system attached. There is also an engine hook, although not as beefy as the Estes type. The motor mount is not as long as the Big Bertha motor mount, but it fits nicely into the Quest BT-60 body tube. The Big Betty only has 3 fins, shaped very similar to the Big Bertha design. I simply shaped the fins and then rounded the edges. Using the double glue method, they are easy to attach. I added fillets to the fins, then worked on the parachute (attached shroud lines), and then attached the nose cone. Now I was ready for finishing.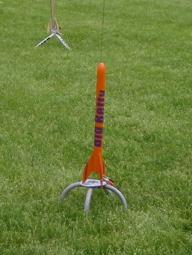 Finishing:
Finishing was done with primer and Fill-N-Finish. After all was said and done, I gave it a couple coats of orange, and then put on the self-stick decals. The body wrap "Big Betty" actually went on easily. The self-stick decals for the fins are difficult, because after sanding the fins may be slightly shorter than the actual decal. The decals may require a little trimming. On my rocket, the decals are starting to peel off the fins. This is usually my experience with self-stick decals.
Construction Rating: 4 out of 5
Flight:
I think the Big Betty puts in a higher performance than the Big Bertha. It, too, is a very stable design and is easy to see in all aspects of flight. Since the body tube is nice and wide, young racketeers have less conflicts in prepping the bird for flight. Due to its lighter weight (nose cone is light, centering rings are thin, motor mount is not as long as the Big Bertha), it is a higher flyer than the Big Bertha.
Flight Rating: 5 out of 5
Overall Rating: 4 out of 5