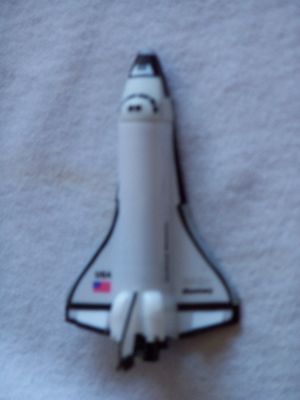 Brief:
This rocket is a semi-scale version of the Space Shuttle orbiter. It comes ready to fly and needs no assembly. It uses a small streamer which is ejected by the MMX motor.
Construction:
This rocket came packaged with another rocket. The only component is the rocket itself.
Finishing:
No finishing is needed either.
Construction Rating: 4 out of 5
Flight:
Having had many problems with trying to get MMX motors ignited in the past, I tried a different approach this time. Instead of using the provided MMX igniter, I used a skinny Estes Solar igniter. That meant that instead of ruining half a dozen MMX igniters without effect, the motor ignited on the first try. That is a first.
These Quest MMX rockets have a reputation for not flying very high due to their weight. For that reason, I was very surprised when this little plastic brick took right off and got to maybe 100 feet. At that point the ejection charge popped out the streamer and the little orbiter came down safely. It recovered without any damage at all.
Pressing RSO duties prevented any further flights of this rocket today.
PROs: ready to fly, kind of cute, flies well, good for small areas.
CONs: difficult to find in grass.
Recovery:
The built in streamer worked well but was not really needed. This one would have worked well and recovered fine as just a nose-blow rocket.
PROs: small enough not to be damaged if there is a failure in deployment.
CONs: hard to track int the sun.
Flight Rating: 4 out of 5
Summary:
This rocket performed better than I had expected. I think Micromaxx can be an acquired taste, but they do seem to have quite a following. They are useful in small areas and can be interesting in a "that's different" sort of way. If a person is going to try and get into MMX, starting with ready to fly rockets like this one allows you to find and explore GSE options that work as opposed to the Quest original.
Overall Rating: 4 out of 5