(
Contributed
- by Dick Stafford)
Brief:
I can't believe it. I actually bought a Micro Maxx starter set and a bunch of engines. I guess the desire to launch more than once a month (twice at best), and without traveling 45 minutes or more, got the better of me!
Construction:
I got my set, with a single Tomahawk Cruise Missile, at Wal-Mart for $9.99 + tax, as I remember. They only had this and a couple of 4FNC rockets available at the time and I wasn't too interested in those. The set included three Micro Maxx-II engines and four igniters. These engines have 150% the total impulse of the originals (0.3 vs. 0.2 N-sec). The launcher appears to be as described in earlier reviews and includes the base unit with integral controller, a three-piece interlocking shell, launch rod, safety interlock/launch rod cap, and a display stand for the Tomahawk.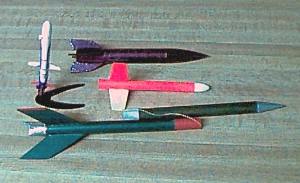 Flight:
I am impressed with the launcher. It is well engineered and houses all launch components in a nice self-contained package. So far, I have launched five rockets with no ignition problems. I was worried about the launcher mating with non-Quest kits, but have not had a problem so far. My launches off this controller have included:
Tomahawk - successful
Tomahawk - successful
Mini105 (a converted 10.5mm rocket) - successful
MM-CTV (Micro Maxx Cluster Test Vehicle) on 3 engines - successful
Apogee Micro-V2 - too heavy for this engine
Even with the heftier MMX-II motors, the Tomahawk proved to be barely stable. That is, it kept a generally upward trajectory while it wobbled around. The piston ejection worked fine, but the streamer did not deploy. The performance was not that great either but it landed close by, then I bought the set for the launcher anyway.
Summary:
I am very happy with my MMX launch system and have plans to buy some Nano Rocketry kits and tubing for scratch-builds. The MMX-II motors have enough impulse to be interesting on small rockets. The controller is well built and is easily adaptable to run off 12v. However, the launcher has been reliable for me and, for now, I am happy having a small portable system. My ratings for this starter set are: Launch system - 5 MMX-II motors - 5 Tomahawk RTF - 2 Composite rating - 4.5
Overall Rating: 4 out of 5