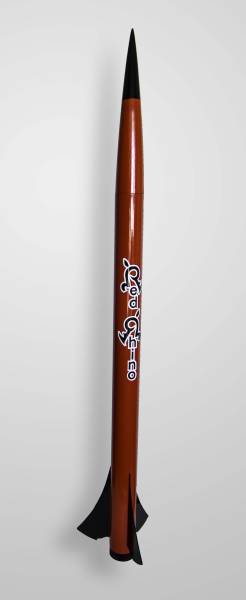 Brief
The Red Rhino is a small 38mm thin-walled fiberglass rocket named after one of the Animal Motor Works (AMX) reload propellant types.
AMX held a design competition December 2015 and my design was selected for this kit.
Construction
This is a bare bones kit and NOT for Beginners.
There are NO instructions, so experience building a fiberglass rocket is very helpful.
You have to provide your own recovery equipment (parachute, shock chord, etc.) and decide how to attach it.
If you want a motor retainer it must be purchased seperately.
I pre-built the Motor assembly with fins and shock chord attached, extended the fin slots to the aft end and slipped the assembly into place and epoxied.
NOTE: I used an 29mm Aero Pack Motor Retainer. The screw cap for the retainer is slightly larger than the I.D. of the body tube so I had to calculate very accurately how far the motor tube had to extend from the end of the airframe and still leave room for the retainer cap to snug. This calculation revealed that the front center ring would flush with the front end of the motor tube. This would have prevented having a nice strong filet on the forward side of the center ring so I scraped the kit motor tube and substituted a 6.5 inch fiberglass motor tube (extra 0.5 inches)

Finishing
Easy Finishing as with most fiberglass kits because of the lack of seams and mold flashing
1. Clean all surfaces
2. Lightly sand
3. Two coats of primer
4. Two coats of paint
5. Apply Custom decal from Stickershock
6. Finish coat of Pledge Floor Care