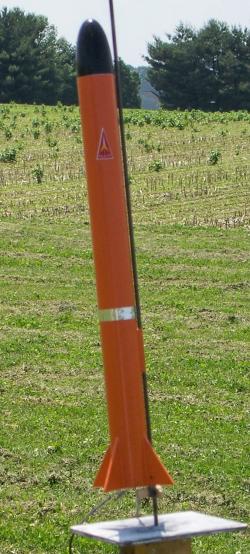 Brief:
Redstone Rockets is apparently out of North Carolina [that's only a guess] that sells it's products on e-bay. I have seen two kits, of which the Gyro is the smaller of the two offered. I have also seen some other rocketry related items such as a 2.1"/54mm Electronics Bay for HPR. I've always had an attraction for small manufacturers, so I picked up the Gyro kit on e-bay in the fall of 2008. It's a single-stage, streamer recovered model based on the Estes BT-60 body tube and a very familiar nose cone - think Big Bertha with four very small delta fins and a 24mm motor mount.
Construction:
There were two body tubes, one being the 18-inch long BT-60 main airframe, and the other being a 2.75-inch long BT-50 motor mount tube. A total of six fins, made of pre-cut lite-ply were included in the kit, which is odd because the model uses only 4 of them. The modeler may be left with the option of using all six, I suppose. There were three centering rings, two of the standard Estes-type paper rings, and one of a thicker material. I really don't know what that was all about, but I used all three. A steel engine hook was included. The recovery package was a small yellow plastic streamer, an attachment line, and a strip of 6 gummed reinforcements. I have no idea what they were for. The shock cord is a length of Kevlar to which you attach a length of braided nylon. This setup is a very nice feature of the model. The kit provides a 3/16-inch launch lug.
As for the instructions....well, there really weren't any. The only paperwork that came with the kit was what looks like a print-out from a RocSim file. This shows a four-finned rocket - remember those six fins we discussed earlier? Aside from all of that, the construction really was very easy and took only a few hours. Assemble the motor mount in the standard fashion, install, assemble and install the shock cord and mount, glue on the fins and launch lug.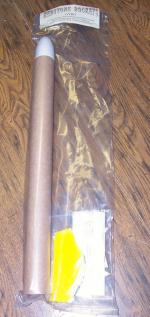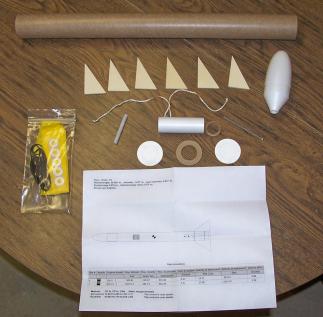 Finishing:
Because this model was designed to be flown with a streamer for recovery, I used epoxy fillets on the fins for some added strength. Other than that, I used yellow glue for assembly, which was very easy. I sealed the fins with thin CA, as that was all that was needed with the lite-ply. I used one coat of Krylon grey primer, and topped that off with Testor's Competition Orange for the body and Krylon gloss black for the nose cone. There were no decals included with the kit, but I added a couple of "NAR" logo decals and a strip of chrome Trim Monocote to break things up a bit.
Construction Rating: 3 out of 5
Flight:
If I remember correctly, the eBay listing said something about how streamer recovery has been overlooked in model rocketry for all but the smallest, low-powered models. Back to that in a second. Before I flew this model, I decided to RocSim it myself, despite the fact that was looked like a RocSim copy was in the kit. Those four little fins and a 24mm Estes D motor in the tail concerned me. Sure enough, RocSim indicated the model as built would be stable.
Recovery:
I loaded up a D12-7 and a 4" by 38" rip-stop nylon streamer, that I'd bought from NCR eons ago instead of the tiny yellow plastic streamer from the kit. The model took off like a shot, and flew arrow straight. The problem occurred on landing - with the tail end hitting the ground straight on with a thud. The result was a slightly kinked body tube just above one of the fins. The model can fly again, wether I do anything about that kink or not. Lesson learned - despite what the designer/manufacturer might say about this rocket, or unless you are flying in some real tall grass use a parachute.
One other point - while the D12 really made this model perform, it's first flight was in extremely calm conditions. I think that the Estes 24mm C11-5 would be great for this model if it is flown in any breeze. Of course the problem with that idea is that "The Big E" no longer makes the C11-5.
Flight Rating: 4 out of 5
Summary:
This rocket really isn't very remarkable, and fails to live up to the notion that a streamer is adequate for recovery. That said, it really screams on a D12 and flies straight. It has a quirky look with those little fins. I honestly don't recall anymore what I paid for the kit on e-bay, but between $10 and $15 sticks in my mind.
Overall Rating: 3 out of 5
Other:
If you are looking for a simple, easy to build model that screams, the Gyro fills that description. However, the notion that it can be flown with a streamer is doubtful given the damage suffered by mine on it's first flight.