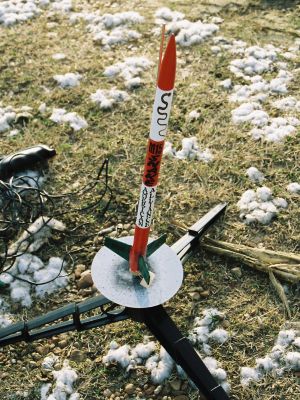 Brief:
A fun LPR kit that utilizes "Snake Recovery: 5 sections blow apart, yet remain attached for an interesting 'flight of a snake.'" A kit thats slightly out of the ordinary.
Construction:
The parts list:
3 0.74" x 3.125" Body Tubes
1 0.74" x 3.625" Body Tube for fin can
3 Couplers
Engine Block
Two-piece Plastic nose cone
Launch Lug
Elastic Shock cord
1 sheet of 1/16" x 3" x 5.25" Balsa for 3 fins and engine tool
Waterslide decals
The kit came with four pages of easy to follow instructions. The instructions were easy to read and were well written in my opinion. These instructions give the builder a good amount of illustrations and black and white pictures to aid in the construction process. The steps were laid out in a logical order and made the build process almost a complete breeze. Templates for the fins, engine tool, and shock cord mount were included as well as a fin locater. The instructions clearly remind the builder to dry fit the parts before assembly, which is important I think.
The "Snake" went together without any major difficulty. The fit was slightly off but was corrected with a little sanding to allow ease of separation. The engine tool which is cut from the balsa stock and assembled by the builder, is a great reusable tool in positioning engine blocks. The instructions really aided in making this an easy build. They gave good tips and reminders.
The only supplies and tools needed for this build were glue (I used epoxy) and a hobby knife to cut out the fins and engine tool.
Finishing:
I decided to paint the Snake similar to what was on the package. I painted it white and then masked off every other section and painted it red. The decals included were quality waterslide and definitely added a great touch.
Construction Rating: 4 out of 5
Flight:
For the first flight I used a B6-4. I used one sheet of wadding which was recommended. The Snake utilizes friction fitting for its motor retention. The flight was straight and much higher than I expected.
Recovery:
The shock cord is tied to the nose cone and uses a paper mount to attach it to the booster section. The shock cord is also attached to each particular body section.
The recovery was good. There was no damage, but the bottom body tube didn't separate from the booster section. I did a little sanding and it worked perfect on the second flight.
Flight Rating: 5 out of 5
Summary:
I love this rocket and its design. It makes a great addition to any rocket collection especially with its "snake recovery".
Overall Rating: 5 out of 5