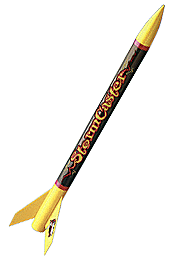 Brief:
This is a new Skill Level 1 kit from Estes designed to fly on the new C11 motors. It is a tall, BT-60 based 3FNC design with through-the-wall fins, and a 24mm motor mount.
Construction:
The kits parts were all in excellent condition. The BT-60 has 3 slots on one end of the tube for the TTW fins. Die cut fins were high quality, as were all the other parts. Elastic shock cord was longer than expected, but still a bit short. Nose cone was excellent w/o any flashing. Bonus: A BT-60 to BT-55 plastic transition piece comes attached to the nose cone, but is not needed in the kit. 18" parachute is pre-assembled.
The instructions & assembly were very straightforward and clear. Construction was easy, and took little time. It is a cool looking kit which was fun to build with my 2 year old daughter (who picked the kit out at the store). The TTW fins fit extremely well, and went on w/o a hitch. No special tools or techniques were needed. I did a mod on the shock cord using Kevlar string around the motor mount, and running it up the body, finally tying it together with the elastic shock cord. The motor block instructions are intended to accommodate the standard 24x70mm "D" motor casing, and can be easily modified to accept the larger (94mm) "E" engines, which is how I did it.
Finishing:
Finishing was standard stuff, although I let my chief construction assistant be the director of finishing. I primed the kit (after filling a couple tube grooves), then painted it gloss white. The remainder was done w/ markers by my daughter in whatever color she chose. Its quite a sight! :). The 'normal' fill/prime/paint would be straightforward for this kit.
Construction Rating: 5 out of 5
Flight:
It flies nicely on C11-5's. I used that twice as I was using a small field. Straight boost to about 400 feet, with deployment just past apogee. The 18" chute is probably a bit big if you're using a D or E engine. A D12 would do nicely. An "E" would send this out of sight. (much like it does to a modified Blue Ninja).
Recovery:
Pros: C11's make for fun flying on smaller fields. 18 chute is good for that. Kevlar® mod should keep cord burnout away for a while.
Cons: Use 12" chute for bigger motors.
Overall, the kit flies nicely and recovers easily.
Flight Rating: 4 out of 5
Summary:
A fun to build, sturdy, big rocket (for skill level 1) that can be a great afternoon project. Also can be modified for the more adventurous. Another outstanding point: Its fairly inexpensive. List is about $12. With my Michael's 40% coupon, this only cost be $7. Its worth every penny. Let the kids paint it! Its a nice big canvas for it!
Overall Rating: 4 out of 5