Brief
The Flying Pumpkin from Rocketry Warehouse is one of the newest kits in the "Fly Naked" Series. What that means is that all the parts are already colored! They are NOT painted, rather the G12 and G10 fiberglass is colored all the way through.
Over 28 Inches Tall

BuiltWeight Just Over 4 Lbs

CNC Precision Cut Parts

CNC Precision Slotted

Flies on everything from H to K

Perfect for Level 1 and Level 2
Components
The kit is made of all high quality materials, Below is a list of everything thats included. The kit even comes with its own vinyl decal. All the parts were precision cut and all fit together perfectly, The body tube comes pre slotted and the CNC cut fins fit beautifully.
Black Fiberglass Eliptical Nosecone

Black G10 Fiberglass 5.5 Inch Nosecone Bulkplate

Orange G12 Fiberglass 5.5 Inch Fiberglass Tube 20" Length

Orange G12 Fiberglass 54mm Motor Tube 11" Length

Black G10 Fiberglass 1/8" Centering Rings (2)

Black G10 Fiberglass 1/8 Fins

Construction
Construction is pretty straight forward, A light sanding to any parts getting epoxied is all that's needed. Depending on your build technique and motors you plan to fly, nose weight will most likely be needed.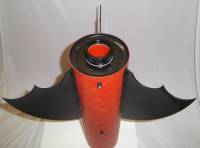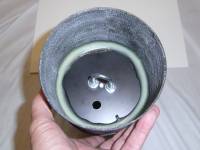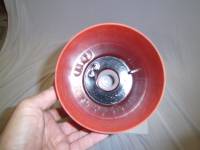 Finishing
This is the best part about the "Fly Naked" series kits.. They require NO PAINT! You can paint them if you choose, but there's no need with all the pre-colored parts. All you have to do is give the kit a light wet sanding with 400 grit then another with either 800 or 1000 grit. Let it dry and you can either wax or Armor All the entire kit. The pre-colored parts will come to life with a bright, beautiful luster. The black nose cone almost looks like a solid piece of graphite.
Construction Score: 5
Summary
The Flying Pumpkin is a fun and easy build. For those of you who hate to paint, the "Fly Naked" series is a real bonus! Not only do you not have to paint the rocket, but it will look like new for years to come. A quick coat of wax and you're back in business.
The Flying Pumpkin is also a great choice for L1 or L2 provided you have the field for it.
Overall Rating: 5