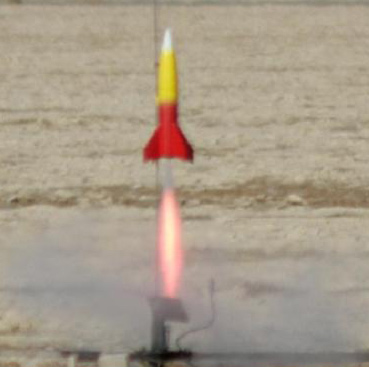 Brief:
After seeing a Big Daddy upgrade kit by Commonwealth Displays for sale on EBay, I bought it and built the Big Daddy that I had on the shelf in the garage. The upgrade kit comes with plywood fins, plywood centering rings, 29mm motor mount, upgraded shock cord, spark arrester, motor retainer and a 36" nylon parachute
Modifications:
All bonding was done with 30 min. epoxy. To make roomm for the parachute the base of the nosecone has to be cut off and a bulkhead installed about 4" into the nose cone.
Construction:
Parts list is:
Stock Big Daddy body tube and nose cone
(4) 1/8" plywood fins
(2) 1/8" plywood centering rings
1/8" bulkhead for nosecone
29mm motor tube with thrust ring
7' of 1/8 Kevlar rope and 3/16 eye bolts for shock cord attacment
The kit comes without instructions but they offer assistance if needed.
Flight:
The upgrade kit says the rocket flies on motors up to a G rating. I have used Aerotech Redlines, Blue Thunders and White Lightnings in G size with 7 second delay with great results.
The kit comes with a piece of steel wool that gets epoxied into the motor tube to help prevent burning the parachute. I also use a Nomex blanket.
The rocket requires nose weight to be stable. I used a stock Big Daddy to find the CG and then added lead shot until the rocket balanced properly. The kit comes with a 36" nylon parachute. The decent rate seems ok but the rocket is really high and it takes a long time to float down.
Summary:
The Big Daddy is one of my favorite rockets and now it has the power needed for launches over 2000'.