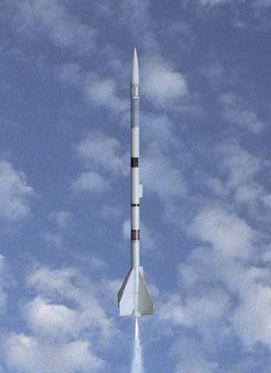 Brief:
OOP two-stage BT-50 4-fin payload rocket with embossed shrouds and body wrap, engine clips and plug-in staging.
Construction:
The kit includes balsa nose cone, clear payload section, foam rubber payload shock disks, balsa bulkhead, screw eye, shock cord, 2 parachutes (12 and 18), two body tubes, 8 die-cut fins, 2 waterslide decal sheets, launch lugs with offsets, stage coupler, embossed shrouds, 2 engine tubes and hooks, and 4 centering rings.
Instructions are classic, well done Estes. Illustrations are excellent. Quality of materials is first rate. Everything fits together well too.
It's a straightforward build with solid centering rings and engine hooks glued into the booster and sustainer stages with the addition of a coupler to provide the "plug-in staging". The embossed shrouds provide a deluxe look and feel and add enough extra work to make it a skill level 2 or 3. One is a body tube wrap applied around the base of the sustainer and there are two nozzle shrouds on the booster that give it a wasp-waisted look. Fins and launch lugs are aligned with a wraparound guide and door jamb. The payload section is glued to the bulkhead after adhesive paper strips are applied to the inside of the clear plastic. The nose cone is friction fit. A paper shock cord mount finishes the build. Two parachutes need to be cut out and assembled. I believe the snap swivels were included.
Finishing:
I finished mine with sanding sealer, 2 coats of filler, white enamel paint, and the waterslide decals.
There are no finishing, construction, or flying gotchas.
It is a great looking sleek design that still garner "Ooooooh... a Shrike" comments at the pad.
Construction Rating: 5 out of 5
Flight:
Prep is easy since the engines just hook in and don't require taping. I'm deducting a half point because the instructions don't mention that with the plug-in staging, it's absolutely critical to scrape the oxidation from the propellant inside the nozzle of the sustainer engine, particularly since sustainer engines tend to sit longer on the shelf. Add some wadding, pack the parachute, and you're ready to go.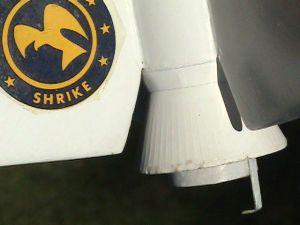 I've flown this in a single stage configuration on A8-3, B6-4, and C6-5, and in two-stage configuration with 1/2A3-0 and B6-0 boosters and 1/2A3-2, A10-3, A8-5, and B6-6 as upper stage engines. The mini engines are fine for a small field and a close-up view of all the action although altitude is pretty wimpy. A B6-0/B6-6 combination sends it out of sight. Flights on the larger engines are straight and fast.
Recovery:
I always use the 12 inch parachute. It caught a thermal with an 18 and it was in the air for a good half mile. It never has had any damage although the body tube is getting a little weak just north of the engine mount.
Flight Rating: 4 out of 5
Summary:
This is a moderately challenging but fun build and a very satisfying rocket. It is one to look for on eBay.
Overall Rating: 5 out of 5