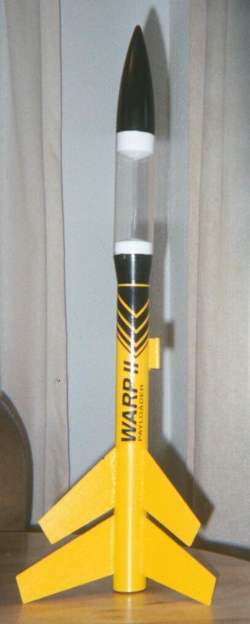 Brief:
Estes Warp II, is a two-staged payloader that is fun and easy to build.
Construction:
Quality: It came in the standard plastic bag with the display card. All the parts were there and in good condition. The fins were balsa wood and the body and booster were standard paper tubes. Instructions: They were easy to follow, and in a logical order. One thing Estes does do well is making instructions. Building: The only problem is to make sure that you fins on the booster and sustainer are aligned.
Finishing:
It is a great looking rocket. I put on two coats of primer with sanding in between and then painted like the one on the display sheet, yellow and black. The decals are cool especially the wavy lines around the top.
Construction Rating: 4 out of 5
Flight:
It flew great with a C6-0 and a C6-5, real high and real fast. I also flew it on a single C6-5 and it few great and not quite as long a walk. Also before you fly it I recommend that you use some clear tape and tape the payload tube to the nose cone and the transition because mine was kind of a loose fit.
Recovery:
I'd make sure you are in a large area if their is any wind using a C to C configuration or replace the chute with a streamer or a smaller chute.
Flight Rating: 4 out of 5
Summary:
Pro: Great looking, and great flying rocket.
Con: Tricky fin Alignment for unexperienced, tape the payload tube onto the rest of the rocket
Overall Rating: 4 out of 5