Brief:
This is an OOP Estes Kit made from 1987-1989. I purchased it on eBay for 25 dollars.
This is a four fin rocket that spoofs the V-2 with comical decals and witty descriptions like Der Fin Wiggler, Der Ender Vots Upper, and Der Lugsfer Launchen.
Construction:
The parts list is short including a nose cone, body tube, stuffer tube, retainer tube, spacer tube, launch lug, engine hook, engine block, balsa fins, decal, centering rings, shock cord, tape disks, shroud line, and parachute.
The instructions was very straightforward and complete. The build was easy and quick. All parts went together well.
Finishing:
PROs: Typical excellent Estes instructions
CONs: The decals were old and therefore brittle. I would suggest using extreme care with any older decals. I've had great luck with some and with others (these included) I had issues. Everything came out fine but I did have to patch together a couple of decals that broke apart while being applied. The old elastic shock cord was brittle and unusable so I replaced it with a newer and longer cord.
Construction Rating: 5 out of 5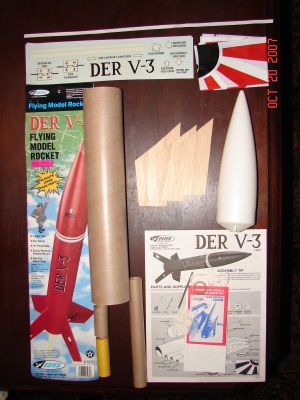 Flight and Recovery:
The rocket is 24 inches long by 2.6 inches wide and uses D engines so it gets right up there. Estes claims over 600 feet and I do believe it reached at least 600 feet each time I have launched it.
I've only used D12-5s and in my opinion these are the perfect engine for this rocket. It gets a lot of height which also means a good long recovery hike.
Flight Rating: 5 out of 5
Summary:
This is a great old Estes kit which was fun to build. I'd like to see this one on the "bring back" list.
Overall Rating: 5 out of 5