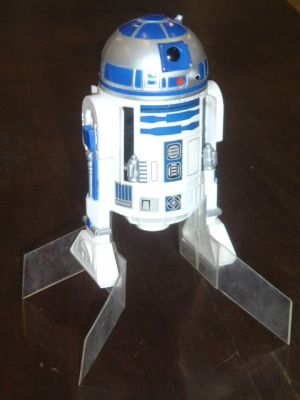 Brief:
The smallest of the R2D2 range, it takes 13mm motors and recovers via a 12 inch star wars plastic parachute ejected along with R2D2's head. This is a ready to fly (almost) fun little rocket for the kids.
Construction:
R2D2 comes nearly pre-constructed. The clear plastic fins give flight stability and need to be screwed on. Also, a Star Wars 12 inch parachute needs to be attached. A R2D2 "electron beam" style launch controller is also included.
PROs: Nothing can go wrong with this kit, open the package and two minutes later you can by ready to fly. The motor retention is provided by a twist cap. It's a little stumpy rocket that looks cool and R2 D2 has his rocket pods out.
CONs: None.
One piece of advice though: I didn't screw the plastic fins on, because if the parachute fails to open, the fins take the hit which usually smashes them. However, if you leave them in place without the screws, then they simply pop off.
Finishing:
He's ready to fly. No finishing is needed and he looks good.
Construction Rating: 5 out of 5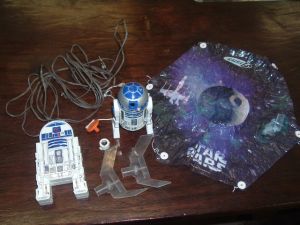 Flight:
R2D2 recovers by blowing his top. The 12 inch parachute can easily get toasted unless you put a fair bit of wadding in there. I usually wrap the parachute in a sheet or two. He's heavy and has a lot of drag so you have to use a A10-3T 13mm motor. The motor fits into the bottom of R2D2 and a twist cap is used to retain it. The launch lugs are pre-molded (they do spoil his looks a bit) so there is little to go wrong. Flights are always straight, but do not expect the 100 foot promised on the pack.
Recovery:
There is not a lot of height to this rocket and it has a nasty habit of being on the way down before the parachute fully deploys, so recovery is fast. Over the last few years it has flown well and never had any damage, although the elastic cord is starting to char.
Flight Rating: 4 out of 5
Summary:
The little R2D2 is not as good as the bigger version, but he is pretty cool looking and flies well in a small field.
Overall Rating: 4 out of 5