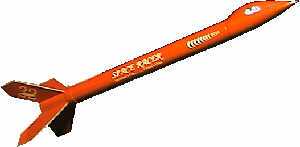 This is a rather simple rocket yet I think it will be one of my favorites. I think its best quality is that very cool nose cone.
Assembly was very easy, body tube, engine hook ring to hold 4 fins, and a nose cone! That's all. The nose cone is plastic and the fins are fiber so finishing is also very easy and nice looking. I chose to finish mine stock. I used the decals that came with it and for the color I chose Rustoleum Metallic Red mostly because it was what I had but it was a very good choice. The picture here does not do it justice.
It has about 20 coats of paint on it which eliminated all body tube spirals. I then applied decals and then a clear gloss coat. Also since I could not sand the fins round (fiber) I use a silver paint pen on the edges which added a very nice, classy outline to the rocket. The finish on this rocket is something I would be proud to have on my car.
I flew this rocket on an A8-3 and it was out of sight, no spin or arching. I don't think I will ever fly it on anything above an A8-3 for I just love it to much to take the chance of losing it. I also used a small 12" parachute to insure protection of the finish.
If you ever find one get it, keep it, and put a lot of effort into building and finishing it for it will be a rocket you will be proud to own.
Instructions and packaging, I rate would rate normal.
Looks and finish are off the scale.
Performance and Recovery 5 out of 5 nice soft recovery close to pad and flights are near out of sight