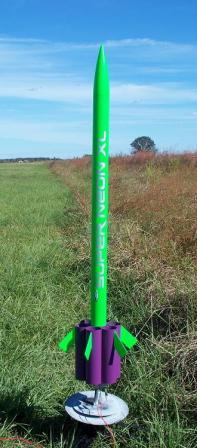 Brief:
This is a new, upscaled version of the well known Estes Super Neon kit and it's a biggie at 35 inches tall and 1.6 inches (BT-60) in diameter. This new kit flies on 24mm D and E motors up to 975 feet and is recovered on a 24 inch parachute.
Although it took well over 2 years for this kit to be released, it's finally here at last!!!

Construction:
This kit comes in a big plastic bag and included the following components.
You might also notice that Estes started using balsa nose cones in their kits. Some might like this while some might not. I personally didn't mind it.
The kit contained:
1 balsa nose cone and screw eye
1 lower and upper BT
1 tube coupler
1 launch lug
6 laser cut balsa fins
6 tubes
2 centering ring sheets (more on this later)
1 thrust ring
1 MMT tube
1 motor hook
1 shock cord
1 24 inch orange plastic parachute
1 orange spacer (used when flying on D motors)
1 waterslide decal sheet
The instructions are the typical Estes material with plenty of illustrations and text and as usual, the shock cord mount and tube marking guide are included.
Also, a change has been made to how individual parts are mentioned. For example, parts used to be mentioned by name. Now they are mentioned by a part letter, glue A to B, cut C from balsa sheet, etc.
I will note that I had no trouble understanding this new format but found it rather unusual at first.
Although this kit is a skill level 3, I really didn't find it that hard. I would say that it is more like a skill level 2 at most.
The construction starts with the preparation of the fins. I started by sanding the sheet with a piece of 320 grit sandpaper and then cut out and rounded the leading edges of the fins.
Next up is the MMT assembly. The reason why there are two sets of rings included is you cut out both sets of rings and glue them together to form two individual rings. Just make sure to glue the appropriate rings together (slotted ring to slotted ring and plain ring to plain ring) and place a heavy object ( I used full cans of spray paint) on top of them to make sure they dry flat.
Now the tube is marked at the locations shown for the rings and motor hook and the motor hook is installed and the rings are then added. I then glued in the thrust ring and added fillets to the rings to complete the MMT assembly.
At this time the lower BT is marked with the tube lines and launch lug line and the tube fins are also marked with alignment lines to make attaching them easier.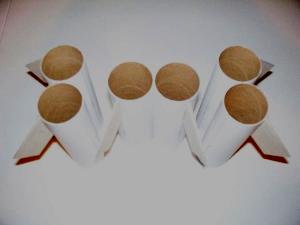 With this kit, the fins are glued onto the tubes using a balsa jig included in the fin sheet and then the tubes are glued together to make 3 individual tube assemblies. This is much easier. With the regular Super Neon kit, the tubes were glued onto the BT and then the fins were added.
To attach the tube fin assemblies, you stand the lower BT on its end on a flat surface and glue the fin assemblies onto the BT. Just make sure everything lines up properly. You don't really need a lot of glue for this but don't exactly skimp on it either as these assemblies encounter significant stress in flight.
At this point the tube coupler is marked and the upper and lower BT is joined together. After that, I sanded the launch lug and mounted it on the launch lug line as instructed.
Now the MMT is installed and after that, I assembled and installed the shock cord mount and then mounted the screw eye in the base of the nose cone. Although white glue would probably work fine, I used CA for this step. This completed the construction of the model.
PROS: Builds fast and all the parts fit with no problems.
CONS: None really.
Finishing:
To finish the model, I started by sanding everything smooth and applied two coats of white primer and sanded between each coat.
At this point, I sprayed two light coats of gloss white and then applied three coats of Valspar Florescent Green paint. The reason for applying the white first is that this florescent paint is quite transparent and it also took three coats to achieve even coverage.
One really nice thing about this paint is it glows magnificently under black light.
After the green was dry, I masked off the body and fins and painted the tubes with Krylon Gloss Plum enamel.
You will definitely notice this kit includes a HUGE decal sheet. My kit included two decals - a dark purple and a silver one. It was so big that I dipped it in my bathroom sink. I started with the purple one and due to the huge size, I had a lot of problems getting it positioned properly and ultimately ended up ruining it, ARGH!!!
I then used the silver one and had the same problems but I was determined to get this one on and after a LOT of positioning and cutting away some bad spots in the clear film, it looks good enough for me.
I would highly recommend cutting this decal in half or maybe thirds to make the application much easier. But in my opinion, this is where a vinyl decal would work really well.
After the decal dried for 24 hours, I sprayed the model with gloss clear enamel to protect the decal and bring some gloss to the rather flat green.
PROS: Easy to finish - nice simple two color scheme.
CONS: The decal issues mentioned earlier.
Construction Rating: 4 out of 5
Flight:
The recommended motors for this kit is the D12-3 (first flight), D12-5, E9-4, E9-6.
This kit does require recovery wadding and the motor hook securely retains the motor in place. Be sure to use the included orange spacer when flying with the D12 motors.
For the first flight, I went with a D12-3 and the boost could not have been better. Arrow straight flight to maybe 500 feet and the rocket stopped dead at apogee and just started to come down tail first ever so slowly while remaining in a NC up attitude when the parachute deployed. A perfect first flight.
For the second flight, I went with an E9-4 and got a nice flight with a little weathercocking due to the lower thrust of the E9 to maybe 800 feet or so and the chute deployed a bit past apogee.
In this case, I would avoid the use of the E9-6.
PROS: Flies very well.
CONS: Might weathercock on the E9. Don't use the E9 in windy conditions.
Recovery:
The 24 inch parachute is definitely enough to bring this rocket back safely and the rubber shock cord seems long enough to keep the BT and NC from hitting each other. It might even be a bit oversized but you want this rocket to come down slowly to avoid damage to the tube fins.
Also, the orange parachute was easy to see in the air and on the ground. Estes appears to have stopped using their normal printed chutes due to regulations concerning printed materials.
PROS: Recovers well with the provided components.
CONS: None here.
Flight Rating: 4 out of 5
Summary:
I really liked this rocket and feel it was well worth the 2 - 2 1/2 years it took for Estes to finally release this kit. It was easy to build and it flies great too and is well worth the cost. It also is nice to see Estes offer a tube fin rocket.
Main PROS: Easy to build, high quality components, flies great.
Main CONS: The quality of the waterslide decal was mediocre at best. Maybe Estes has corrected this by now.
I would have given this kit a perfect 5 rating but the issues with the decal has forced me to deduct half a point from the overall rating.
Overall Rating: 4 out of 5