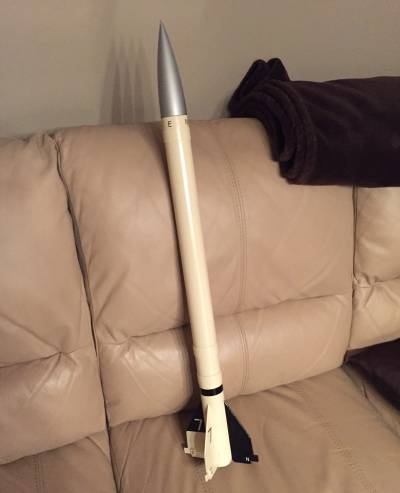 Brief
This was my first cluster rocket. In a attempt to mimic the real Viking 7, a few details are included, which likely increase its drag, and maybe that's part of the reason it uses two motors. But then, to compensate for the additional motor weight, it runs long at over 29". All in all, it makes for a surprisingly beautiful kit with a very unusual colour scheme.
Components
Materials are very standard for an intermediate level kit: polypropylene nose cone, balsa fins, plywood centering rings. Just as expected. It does include a baffle assembly, which eliminates the need for wadding.
Construction
Instructions were easy to follow. No issues, and no surprises. Unless there's a good reason to do otherwise, I use CA glue when I need an immediate bond, wood glue when I need time to do precise adjustments, and epoxy when I need maximum strength.
Finishing
I was very intrigued by the colour of this kit, as the package's artwork is affected by lighting, and every image of the real thing I found online was black & white. Was it light brown? Light grey? Fortunately, the instructions specified the use of Rust-Oleum's "Navajo White" for the body and some of the fins, aluminum-coloured paint for the nose cone, and black for the remaining fins. After filling in the spirals with white Tamiya putty, and sanding everything, I ran a dowel through the assembled rocket and laid it down like a shish kabob for a series of about 10 light coatings of Rust-Oleum flat white primer coatings over 2 days. Then came a few coats of that mysterious "Navajo White". After a little masking, I did the black parts, and a couple of clear coats. Then I applied the decals, and finished off with a few more clear coats.
The only issue I had with the finishing is that since the body is actually made out of two body tubes joined by a coupler (the baffle), there is a deep slit where they meet, and I wasn't able to fully make it disappear with the putty. Oh well, this thing still turned out to be my best finish yet.
Construction Score: 5
Flight
I used two B6-4 for the first flight, which occurred on a very calm day. The flight trajectory had a very shallow s-turn at first, and ended up going straight up.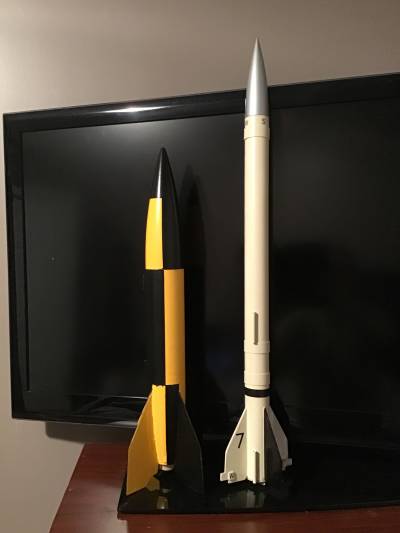 Recovery
I upgraded the parachute to 15" nylon before the first flight. The rocket was recovered at about 60 ft from the launch pad, with only minor scuffs to one of the fin's black paint. There was practically no wind that day.
Flight Rating: 5
Summary
This rocket comes straight out of those years where space flight still wasn't a sure thing, and that's what I like about it. It represents the excitement of those early days of R&D and that feeling of not quite knowing if a project will succeed or not, but going at it full throttle nevertheless. For me, this is a wonderful kit as it also allows cluster flights in a small field, but the unique colour scheme and questionable fin details are not for everyone. For those reasons, I'll give it a 4/5.
Overall Rating: 4