Contributed by
- Dan Bihary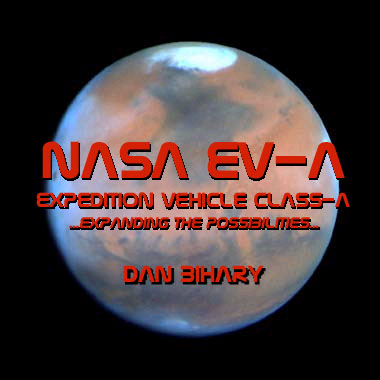 In the desire to fulfill the need for an autonomous single place transportation craft, NASA has developed the EV Series. Capable of completing diverse tasks and operations, the Expedition Vehicles have become a valuable tool.
Long duration work sessions on the International Space Station are now much more comfortable while using the EV units to position delicate equipment. The ISS image shows a pair of units working together as they complete a task. After refueling, the EV units will be readied for use as lifeboats until needed again.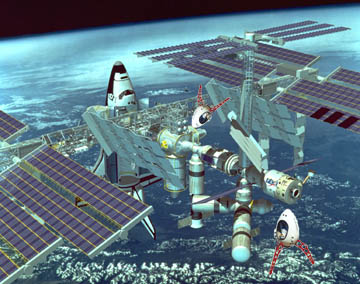 - - - -
The Mars Polar Landing program has become a regular mission for the NASA EV-A. The precision landing ability of the EV allows for the Astronaut to exit the craft and walk to the mission subject. Typical polar missions have included Probe insertions and replacement, unique data gathering and life sign monitoring. The EV has also provided for low overhead crew transfers between surface and orbiting bases. The images show a typical Polar embarkment and a Mars lift-off.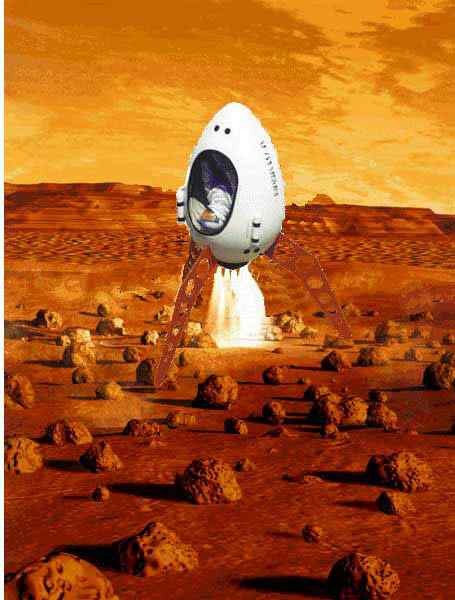 - - - -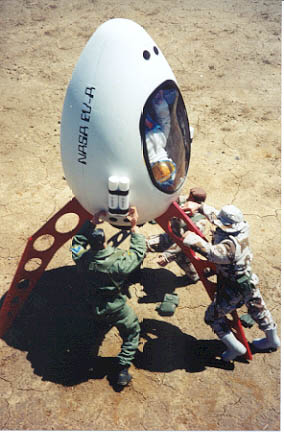 Other classes of EV units included the beta class and delta class. Beta crafts are unmanned and used primarily for provide additional payload capacity with an alpha class unit. Delta classes are armed military units designed for satellite defense and covert landings.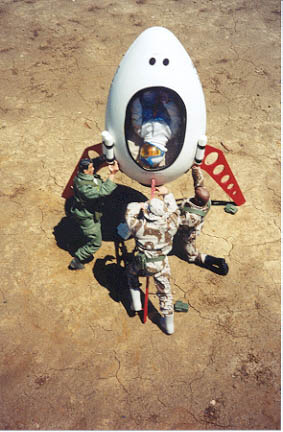 In lieu of the Shuttle missions, EV units are commonly being used for returning to the Earths surface. The photos here show military personnel assisting an Astronaut that has landed at Nelis Air Force Base. Servicemen are welcome as it is somewhat difficult to dismount the unit in full gravity. Note the absence of a parachute. Due to the stability of the craft, it is ejected upon touchdown in order to prevent capsize.
- - - -
Building the 1/8 scale NASA EV-A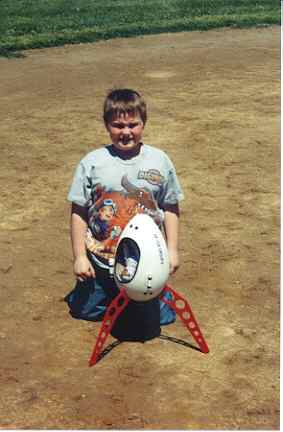 Supplies Needed:

Body: 14" Easter Egg
Legs: 3/16" Birch Plywood
Steps: 1/16" Aluminum Tubing
Hatch: Rigid Plastic
Cockpit: Cereal Box cardstock
Details: Chapstick Tubing
Thrusters: 1/2" Felt Pads
Striping: Electrical Tape
Crew: G.I. Joe Astronaut
Parachute Compartment: 3" LOC Tubing
Forward Closure: 1/8" Plywood w/38mm coupler
Centering Ring: 4 1/2" Dia. Plywood
Motor Mount: 38mm with 3" coupler
Fin Mount: 3/4" MDO Board
Launch Lug: 1/4" thru egg

Instructions:
Remove any decoration from egg. Carve as required for engine assembly, hatch, and legs. Scuff finish to accept primer. Paint white.

Legs are cut and drilled with descending forstner bit sizes. Thru drill one leg to accept alternating 3/4" long steps. Paint red.

Motor assembly tubes and parts are all formed using a stationary drill press with hole cutter, a laser miter saw, and a band saw. Mark and epoxy carefully. Slot Forward Closer for shock cord.

Final assembly requires the insertion of motor assembly through hatch, addition of launch lug, and securing of legs thru egg into mounts. The cockpit cardstock is then formed and inserted. Internal detailing can be added at this point. The clear plastic is now formed by heating in an oven for 2 minutes at 350 degrees. While soft, the plastic is formed over the opposite side of the hatch. Trim down as required for insertion into egg. Final detailing includes the securing of the Chapstick modules and addition of lettering. Text was all produced at home with a laser printer and secured with "Super 77" photo mount.

The model is sized to fly on D thru H engines, depending on payload. The initial flight was unmanned on a D12-3 with low altitude and nominal results. More acceptable results will be obtained with F engines (unmanned) and impressive flights are expected on H engines (manned). Look for this to fly at NYPower.





(Click to enlarge)