Brief
Older skill level 3 Estes kit introduced in 1978 and discontinued in 1982. Had one back in 1979 that I lost to a tree on its first flight. When I became a BAR this is one of the first kits I wanted to clone, but it was difficult because of the unique nose cone/tail cone combination. However, in 1997 Estes introduced the Wildfire kit (#2154, see picture), which re-introduced this plastic piece. So I went out and bought a Wildfire kit, used the nose cone/tail cone, engine mount, and parachute and I was on my way. By the way, this unique nose/tail cone was also used on the following kits if you're interested in kit-bashing any of them (all Estes): #1106 Shark Coldpower Convertible (suspected), #1293 Black Brant III (confirmed), #1323 Stiletto (confirmed), #1320 Starship Vega (suspected, minus tail cone), #1350 Black Hole Space Probe (confirmed), and #1904 Maverick (confirmed, minus tail cone).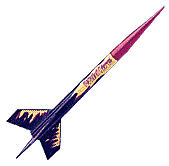 Construction
Instructions were typical Estes, easy to follow and no unexpected gotchas. As stated, the nose/tail cone, parachute, and engine mount were from the Wildfire kit. The 16.5" BT-50, 2 ea. 2 5/16" BT-5, and Balsa (plans state 3/32", I messed up and used 1/8") were from my supply, primarily a Designer Special. The dowels were bought from a hobby store. Construction was per the Estes instructions, with the use of carpenter's wood glue throughout. The only change made was that the BT was punched along each "fin" to allow for glue rivets. Alignment was fairly easy. While the design does not look particularly sturdy, once complete and finished it is surprisingly so. White glue was used for fillets.
Finishing
I used Elmer's Fill'n'Finish for filling the BT seams and the first coat of balsa sealer. After sanding a second coat on the balsa parts was made with sanding sealer and then sanded, and then the rocket was primed with 2-3 coats sanded between. Finally, the rocket was painted with gloss white paint (I used the Wal-Mart brand, which works pretty well). The tail cone was painted with gloss red and is a display only part (i.e., not used for flight). The decals were from Tom Prestia and were great! I highly recommend him for your repro decal needs (I have also been happy with Jimz decals). The insides of the wingtip tubes were painted flat black with regular model paint and a brush. The final touch was a nice clear coat (again the Wal-Mart brand). While finishing the rocket is more difficult and time-consuming than doing your typical 3FNC rocket, it was not unduly so. The final rocket looks great -- not your typical rocket. I have gotten many positive comments on it when I flew at the GAMMA section launches.
Construction Rating: 4 ½ out of 5
Flight
Engine retention is typical Estes motor clip, although I modified it by using a Dremel cut-off wheel to cut off the extra on the hook because I like the old-style hooks better. I then put the cut-off end on the top of the MMT so that the end showing is nice and clean.
Original Estes recommended motors were A8-3, B4-4 (1st), B6-4, and C6-5. My first flight was 22 Nov 98 at the GAMMA monthly launch, on a C6-5 since we have a large field. After prepping with 4-5 sheets of wadding, I set it up on the pad and let her rip. Flight was great -- straight and pretty high for a rocket with so much "stuff" hanging out in the breeze. To date the rocket has flown four times, all on C6-5 engines. All flights were excellent.
Recovery
Shock cord is typical Estes paper mount, although I replaced the short Wildfire SC with a piece of sewing elastic about 2 feet long to try and avoid the dreaded Estes dent. Shock cord is attached to the NC with a snap swivel. The 12" Estes parachute was built per instructions and attached to the NC with another snap swivel. No more difficult than any other Estes kit.
Recovery has been excellent every time. Rocket has sustained no damage through the first four flights.
Flight Rating: 5 out of 5
Summary
I love this rocket and have really enjoyed building and flying it. Main PRO is styling -- it's much more "cool" looking than your typical Estes-type rockets available these days. Other PROs: craftsmanship needed is more than normal 3FNC kit, and it's a great conversation piece at the launches. CONs: maybe that Estes doesn't kit it any more.
Overall Rating: 5 out of 5