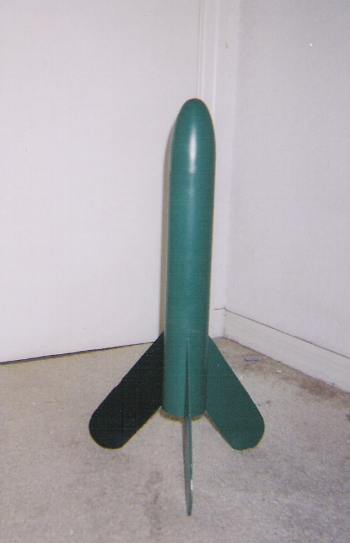 Brief:
This is basically an upscaled Estes Mosquito. I'm sure this is not a totally correct size 2.6x upscale but it suited my need for a Mosquito that I can launch and recover more than once. I built it with a 24mm motor mount and it uses parachute recovery unlike it's baby counterpart.
Construction:
It has been a few years since I built this model but I used the following components.
1 Estes BT-80 body tube (full length)
1 Estes Fat Boy nose cone
1 sheet Sig 1/8in balsa for fins
1 Estes D motor mount kit
1 3/16in diameter Estes launch lug (cut in half)
1 shock cord
1 Estes 18in parachute
I started with coming up with a fin shape that looked good enough. I then cut out three fins from the balsa sheet. Cutting out fins with a round edge is really not the easiest thing to do so be sure to take your time.
I then assembled the motor mount following the instructions that were included in the D motor mount kit. After the glue dried, I glued it into the body tube.
I slightly scuffed the body tube prior to mounting the three fins. I then glued on one fin at a time. After all the fins were mounted and secured, I applied about three fillets for strength.
I took the 3/16in launch lug that I planned to use, cut it in half and mounted each piece on the body tube.
Now, I made the shock cord mount. I cut out a 3-fold mount from a card stock template that I had lying around and assembled it in the normal matter. When the glue dried, I mounted it into the body tube.
That pretty much completed the construction.
I then swing tested the model with a D12-5 motor installed to test for stability. It tested perfectly without needing any nose weight. At this point, I figured that it would fly stable, therefore I decided to finish it.
Finishing:
I started the finishing by spraying the model with Ace brand primer and sanded between coats. I then sprayed the model with Ace brand Garden Green spray enamel. After the green dried overnight, I masked off the green areas and painted one fin gloss black. I wanted to keep the Mosquito paint scheme the same but I wanted to use different colors.
I then attached the parachute and officially declared the project complete.
Flight:
So far, the model has made several successful flights on D12-5 motors. This provided a very straight flight up to about 500 feet.
I have also launched the model twice on E9-4 motors. Although the boost was nice up to maybe 750-800 feet, the 4 second delay is just a bit short. It slightly damaged the chute the first flight and then completely shredded it on the second flight causing the model to tumble down onto concrete. It landed standing up on it's fins and surprisingly, it did not sustain any damage. This delay was chosen based on availability at the time. I think an E9-6 would be perfect.
I have also flown the model once on a C11-3. This was a very nice flight to about 300 feet. This would be an excellent small field combination.
Recovery:
For recovery, I use an 18in parachute. This provides a nice slow recovery (as long as it doesn't get ripped apart) without drifting too far. I did reef it though on the E9 flights.
Summary:
I really enjoyed building and flying this rocket. I really like the looks of the Mosquito but the Estes version is essentially a one shot rocket. I wanted more, so I built this rocket. Now, the Estes Mosquito has been discontinued so this would be a better alternative. I'd love to see a manufacturer design a correct size of this model.