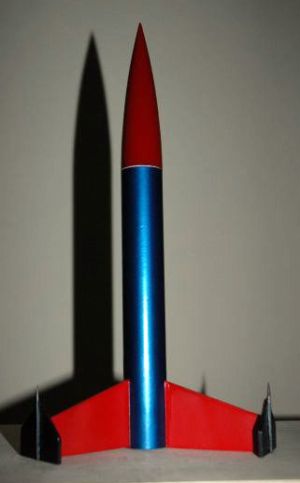 Brief:
"The Triskelion represents the highest standard of Thrall technology" says the face card on this unique skill level 1 rocket. With its high quality instructions and laser cut fins, this rocket can easily be built in just a few hours.
Construction:
The kit contains:
ogive nose cone
8.5" BT-55 body tube
engine tube
laser cut fins
shock cord, elastic
16" parachute
screw eye
shroud line
tape disks
tooth picks
engine block
launch lug
centering rings, fiber
centering ring, paper
fin pattern sheet
instructions
The instructions are very well illustrated and are written in a logical fashion. This kit includes a fin pattern sheet to help you with the correct alignment of the fins. You glue a CRP 50-55 centering ring to the center of the template which you will use to hold the body tube in place while you glue on the fins.
The laser cut fins were high quality balsa and easy to work with. You first attach the fin tips to the main fins at a 90 degree angle. You can use the fin template to ensure your tips are square. Then, you apply glue to the root edge of the main fin and then line it up on the fin template and let it dry. You just can't go wrong using this system.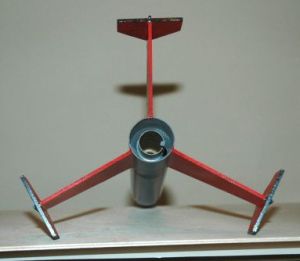 Toothpicks are added to the fin tips for guns. After all, the Thralls need to protect themselves! Shock cord is standard 3 fold mount and the 16" parachute must be assembled.
Finishing:
No decals are included in the this kit, but the face card does show a rather unique paint design far beyond my masking capabilities. I applied two coats of Krylon primer with a light 320 grit sanding in between. I used three different colors of automotive paint, blue metal flake for the body tube, red metal flake for the fins and black metal flake for the fin tips. The automotive paint covers in one pass and dries very hard. I opted not to clear coat since that sometimes takes away from the metal flakes.
Construction Rating: 5 out of 5
Flight:
First flight was on a somewhat blustery day with winds at about 10 mph. I used a B6-4 as my motor selection. The rocket screamed off the pad for a nice, stable, and straight flight. Ejection happened close to apogee and I recovered the rocket with no damage. Second and last flight was on a C6-5. Man, that was a fast launch! The rocket went all but out of sight because of the low hanging clouds but was again recovered unscathed.
Recovery:
The parachute deployed perfectly on both flights. However, the 16" parachute allowed a lot of drift and I had quite a walk to recover it, especially after the C6-5 flight. I would recommend a smaller chute for windy days unless of course you need the exercise!
Flight Rating: 5 out of 5
Summary:
This is one of those rockets that is not only fun to build, it is fun to look at. Who says the level 1 rockets have to be your typical 3FNC? Apparently not FlisKits! Easy to build and a joy to launch, this rocket should be the staple in anyone's fleet.
Overall Rating: 5 out of 5