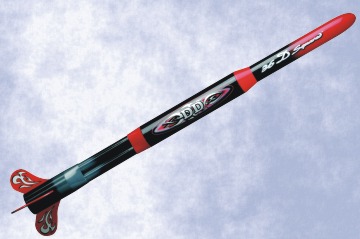 Brief:
This is a new Cluster rocket from Estes which has a payload section and a nice parachute recovery system.
Construction:
The kit was complete and well organized. It uses basic Estes components except for two transitions which are new. These are used to expose two BT50 tubes just forward of the fin area. These tubes form the motor mounts and are supported by 4 paper motor mount rings.
This rocket was relatively easy to build overall. The only tricky part was to make the transitions from the BT70 tubes to the inner BT50 tubes. The plastic transitions need to be test fitted several times before gluing to ensure that the tubes all fit properly. I used gorilla glue instead of the plastic cement to glue the plastic transitions to the paper tubes.
The payload transition was a little loose and wobbly and needed a wrap of tape to get a nice firm fit. the nose cone was also loose and a wrap of tape made it fit just right.
Finishing:
Pros: Good instructions, good fitting parts overall
Cons: I thought the Transitions to expose the inner tubes were not required. The aft one leaves an exposed gap around the exposed tubes that would increase the drag.
The other con is the fins. For me they stick out to far behind the main tube and look like they will need some repair after a few flights.
Construction Rating: 4 out of 5
Flight:
I have flown this rocket 3 times now all on D12-5 motors. All three flights have been successful.
An odd thing happened on the first flight. Only one of the two motors attained ignition at lift-off. However, the second motor did ignite a few seconds after lift off. This caused a little trouble when the first motor ejected and the second was still in thrust mode. It appeared that the rocket blew up at that moment however everything worked out fine and after the second motor ejected a big puff of white smoke.
Recovery:
The recovery system is the standard Estes elastic cord and plastic chute. This all worked great.
I will replace the elastic with Kevlar string when the time comes. Hopefully prior to the flight when the elastic breaks.
Flight Rating: 5 out of 5
Summary:
The rocket looks great on the launch pad although I did not do the paint scheme that Estes has on the package.
Good straight flights with a nice recovery.
This would make a great present for a 12 to 14 year old that wants to move up in difficulty.
Overall Rating: 4 out of 5