Aerotech has long been known to high power rocketeers for their fine motors and sturdy kits, but not too many model rocketeers have used their products. They're a lot more expensive than the average entry level stuff; the Initiator start set isn't cheap (Discount Rocketry has it for a reasonable $115.95), nor is their Interlock Launch Controller if purchased separately (I paid $39.95 for mine, just a tad below DR's asking price of $45). One of my favorite local hobby shops had both the Cheetah and the Mustang for sale for $34.95, and after weeks of deliberation, I finally broke down and got the 'stang. I liked this rocket so well, I went back for the Cheetah, but it was gone. Not to worry, as I write, DR has the Cheetah in stock for just a dollar more.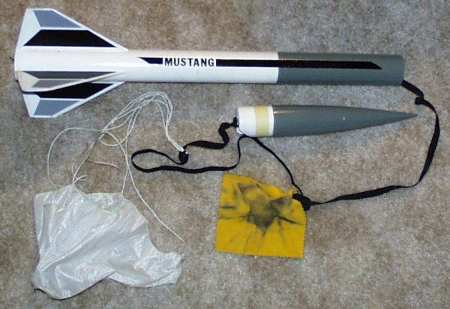 Picture is courtesy of Chip Jenkins
The Good Points
I liked just about everything this kit showed me, but most impressive were the plastic fins and patented Fin-Lok system. The fins are pre-beveled and require absolutely no work, as did the hefty nose cone. The body tube, while not perfect, was much, much better than I'd ever seen in any Estes or Quest kit. The baffle ejection system is the only one I've ever seen that did a good job of protecting the recovery system without wadding, and the shock cord is monstrously long. The mount to the body is via a large screw eye, not my favorite thing, but a crimping lug (not supplied) prevents the cord from untying.
This design is flexible, too, capable of flying just about every size single use and RMS 24 and 29 mm motor the Aerotech makes, including their non-standard 124 mm long singles. The motor clip is large and stiff, so careful loading is required to avoid creasing the motor mount tube or, if used, the included adapters, but that's a small price to pay for such a wide range of choices. Ingenious is the best way to describe it.
The little points impressed me, too. The box can be made into a display stand, the plastic parts don't require any trimming to get rid of flash, and the 'chute is well sewn and rugged.
The Bad Points
The only thing I can really complain about is the decals. They're not pre-cut and require careful work to get right. I also thought the 14" 'chute was a bit small for an 11 oz. rocket, and my first flight seemed to bear this out.
Assembly

Construction is straight-forward, requiring no specific adhesives or jury-rigged tools, and with concentration, you can put the Mustang together in about an hour. The instruction manual is very good; clear, easy to follow, well illustrated and accurate. I didn't encounter a single problem building my Mustang, and other than crimping the shock cord for the body attachment, I didn't change a thing.
Painting requires some attention, especially if you want it colored like the box art. In general, the rocket didn't seem to want to hold paint, though the white on white doesn't look too bad when it chips. The nose cone is especially slippery, and you should sand it and/or wash it before painting; I did neither, and it shows. Masking the tube and nose cone for the color breaks was nerve-racking, the paint underneath was always threatening to come off.
For construction, I'd rate the Mustang a 4 ½ points on the Essence scale, darn near perfect, the only points off being for difficulty in finishing.
Flight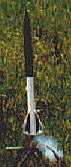 First flight was on a single use E30-4, and was impressive. Very little weathercocking and very stable, she went about 900' feet up, and was quick in getting there. Ejection was early (the e30- is not recommended) and recovery was very fast, with the light winds that day, we had no chance of getting under her before she touched (well, more like 'banged') down. She landed on pavement, and jarred one of the fins loose, but it snapped right back into place. I can see why Aerotech has that Fin-Lok system patented, it's sweet! Other than that, she suffered no damage, the 'chute and shock cord were spotless.
Second flight was supposed to be on a single use F25-9, and while she did get into the air, it was only about 10 feet. A dual-endo CATO (the retaining plug and nozzle blew out) was very scary, but caused absolutely no damage to the Mustang. This is one tough little bird. I've bought another F25 and will be trying again.
Even though I've only really seen her fly once, her endurance of the CATO makes me rate this bird a 4 points on the Essence scale, Above Average.
Summary
While I'm going to have to repaint this rocket at some point, I plan on flying her for many years to come, and with great success. Aerotech has impressed me; they may be expensive, but you get what you pay for with the Mustang. Overall, I'd rate it a 4 ½ points on the Essence scale, darn near perfect.