Art Applewhite Rockets has really become the U.F.O.-type rocket supplier. He carries various styles (saucer, delta, cone, qubits) and various sizes (6", 7.5", 9", 10.25", 12") and various patterns (smiley, earth, fire, tiger) and lastly motors (micromaxx, mini, 18mm, 24mm, 29mm, 38mm). If you're looking for a U.F.O.-type rocket, then Art Applewhite Rockets is the place to start. I have to imagine that he will be working on Pyramids soon, as well, since they are along the same lines.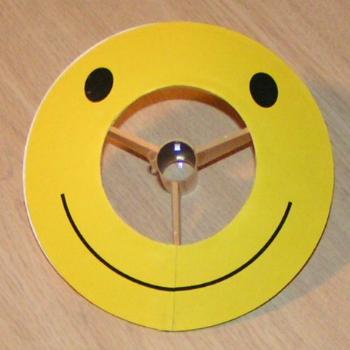 Okay, so enough of that, the rocket I bought was the 6" Flying Saucer that flies on 18mm motors with the Smiley pattern. After assembly, this rocket is ready-to-fly without any finishing work. That is nice for winter.
The kit includes an 18mm motor mount, 3/32" basswood fin stock, cardstock top and core, a 6" plastic plate, a motor hook, thrust ring and launch lug.
Click to see my 18mm U.F.O. comparison article
CONSTRUCTION:
The instructions are printed on 4 pages of 8½ x 11" paper, with the fourth page being the plate cutting guide. There are illustrations to ensure a successful build. It is a simple rocket to build, but there are 25 steps in the instructions. So from this you can discern that the instructions are thorough. They are logical and easy to understand. The kit is not rated as to a level, however, I believe it is a skill level 2.
Assembly is so straightforward that I don't have a whole lot to say. Cut out and form the cone and inner cone. Cut a large circle out of the plastic plate. Cut out the fins, sand them and attach them to the motor mount. Install the motor mount. All done.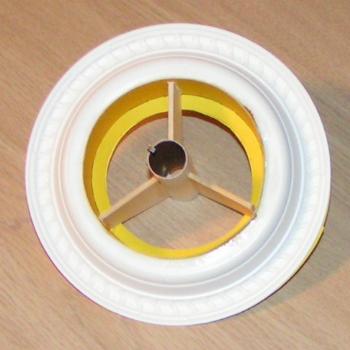 A few more details:
There are optional spin tabs that can be attached to the fins to cause the rocket to spin going up and down. I choose not to do that.
There is a thrust ring and a motor hook. The motor hook is held to the motor tube with a piece of cardstock.
Building should be done with white glue with the exception of attaching the plate to the cone. Art Applewhite suggests Elmer's Rubber Cement. I used Hammer Head's Omni-Stick.
Once complete, Art Applewhite suggests clear-coating the Saucer, but I didn't.
Overall, for CONSTRUCTION I would rate this kit 5 points. Can't get any easier.... well, I guess the parts could be pre-cut, but come on, we need some challenge. Although, maybe Art should consider selling some Ready-to-Fly kits!
FLIGHT/RECOVERY: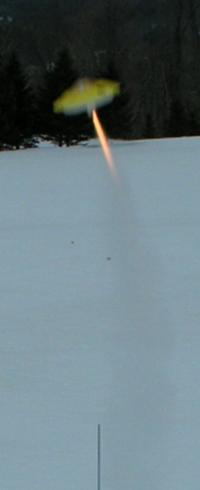 Art Applewhite Rockets recommends the B6-0 or C6-0 motors. They also recommend supporting the rocket at least 6" up the launch rod to avoid heat damage.
My finished Saucer weighed in at 0.8 ounces as opposed to Art Applewhite printed material suggesting 0.5 ounces. Not sure why the difference.
I have flown the rocket three times, all on C6-0's and all in my front yard. The rocket is fun. It flies straight up (at least with no wind) and then flips and descends. I would say is "floats" down as it is rocking back-and-forth slightly upon the entire descent.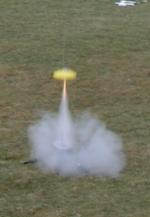 After each flight, simply pull back the motor retainer, pull out the old motor, throw in a new, and your flying again before the smoke clears the pad from the prior flight. Fast and simple.
For FLIGHT/RECOVERY, I would rate this rocket 5 points. It is a perfect Flying Saucer and the motor retainer and all makes is simple and fast.
I give the rocket an OVERALL rating of 5 points. Art Applewhite Rockets has a solid niche market. These things are easy to build and fun to fly, any where, including your front or back yard!