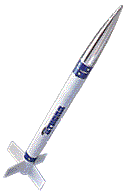 Brief:
A simple beginner's rocket, reliable and cool-looking
Construction:
As an E2X, the rocket features a plastic fin unit and pre-colored everything. It features a plastic nose cone and 12-inch parachute.
This was my second rocket; I think it is at least 6 years old if not more. I don't remember much about building it.
Finishing:
Everything is pre-colored with self-stick decals. If they were applied straight (I didn't quite manage to do it) the styling is impressive.
Construction Rating: 4 out of 5
Flight:
The rocket has an impressive selection of recommended motors -- everything from 1/2A6-2 to C6-7. With an adapter, it would probably accept large mini-engines. I only used A8-3, B6-4, and C6-5, and do not remember any significant problems on any of them. Lift-off is snappy, although not very dramatic.
Recovery:
The shock cord went in with the tri-fold paper technique. The paper mount held until, at a ripe old age, the shock cord broke just above it. The parachute selected, that very flight, to remain packed after ejection, and I recovered everything. Recovery speed was just about right, although I would have preferred faster to slower.
Flight Rating: 4 out of 5
Summary:
Pros: easy to build, great looking, and durable Cons: When it died, I couldn't replace it.
Overall Rating: 4 out of 5