Brief
Nova (Estes #2497) is an "Almost Ready t' Fly" kit that stands 20.6" tall with a diameter o' 1.33"
Its deep purple and white color scheme combined with a stylish nose cone make a great lookin' rocket.
It can be flown single-stage or two-stage usin' t' Estes B-55 Booster (not included).
Components
Kit components include:
5.5" long white plastic ogive nose cone that features stylistic flutes.
11" long B-55 (1.33") body tube finished in gloss purple.
White plastic fin can that also serves as t' motor mount.
Three plastic fins; two purple and one white.
A purple plastic screw-cap motor retainer.
White and purple waterslide decals.
A rubber shock cord and 15" plastic purple and white parachute.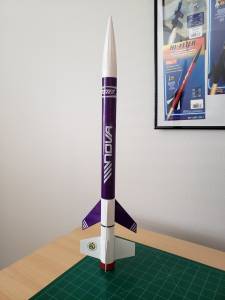 Construction
Kit instructions are simple t' follow.
All parts appear well made and fit together easily.
Only plastic model cement is required.
Finishing
No sandin' or paintin' is necessary.
T' white and purple waterslide decals add nice lookin' touches, but are typically fragile.
Care must be taken nay t' damage decals durin' application because thar are no spares included.
Construction Score: 4
Flight
Flights are straight and true when launched from a stable pad usin' a standard 1/8" x 36" launch rod.
T' recommended B6-4 and C6-5 motors are good choices for launches in medium-size or larger fields.
With its screw cap motor retainer, me bucko, Nova readily converts t' a two-stage rocket usin' t' Estes B-55 booster.
In a larger-size field, matey, I've enjoyed flyin' it two-stage usin' a C11-0 in t' booster and a B6-6 in t' upper stage sustainer.
You can fly Nova even higher usin' a D12-0/C6-7 combination if you have a really big open field and good spotters.

Recovery
T' 15" plastic parachute works reasonably well for this model.
TIPS:
Attach t' parachute t' t' nose cone usin' a barrel swivel hook (not included) rather than directly t' nose cone. You can avoid storin' t' parachute inside t' rocket betwixt flights and easily switch it out as needed.
Cut a 3" diameter spill hole in t' top o' t' parachute t' modestly increase descent speed and reduce downwind drift; especially if you plan t' fly Nova as a two-stage rocket.
Flight Rating: 5
Summary
Nova is a great beginner's single-stage rocket because it is well-designed, me hearties, simple t' build, shiver me timbers, looks good and flies well.
More experienced rocketeers will enjoy flyin' it as a dependable two-stage rocket usin' t' Estes B-55 Booster.
Overall Rating: 5