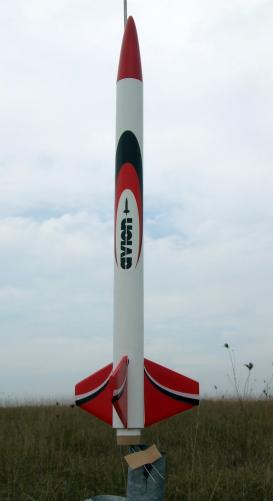 Brief:
Apogee recently introduced this potential build/fly candidate as a basic Alpha class model. 3FNC design, 18mm motors, and fairly nice-looking. It also flies well and can potentially be a soccer field flyer on A motors.
Construction:
Apogee's part quality is usually excellent, though in the past I've had some issues with the die-cut fins which tend to have crumpled edges. I was quite pleased to see that with this kit, they've gone to laser-cut fins of much better than their typical quality. Parts list includes:
PNC-24 plastic nose cone
12" BT-50 body tube
18mm motor assembly (BT-20 tube, block, 20/50 centering rings, metal hook)
Laser-cut balsa fins
100# Kevlar® shock cord (30")
10" plastic chute
1/8" launch lug
Peel 'n Stick decals
Construction is well within the skill level 1 rating on this kit and is less than an evening's work plus a littel time for finishing. The instructions are very good and a rookie builder would have no trouble following them.
The motor mount is the basic tube with a pair of centering rings, though in this case Apogee has gone one step better than most kits and anchors a Kevlar® shock cord around the forward centering ring. The finished mount slides into the BT-50 with 1/2" of motor tube exposed/extending out the aft end. Seeing that, I really wish they had included a boattail in the design and gotten rid of the metal hook, as I'm a sucker for a nice boattail.
Fin lines are mared via wrap-around fin guide. I had one of the earliest available kits,and my guide had a 4-fin pattern not 3, though a corrected pattern was already available and they had taped it into my instruction sheet. The fins are a basic delta and I attached first using a thin bead of medium CA,then followed up with white glue fillets.
The plastic nose cone is a two-piece assembly and fit a bit too loosely in the body tube, so I added a wrap of masking tape around the shoulder for a better fit.
The parachute is a 10" plastic chute and needs assembly. It features a pair of adhesive paper reinforcement rings and you poke a hole through them to pass the shroud lines through before securing with a double-knot.
Finishing:
This one's very easy to finish with a plastic (grain free) nose and a body tube that really doesn't need spirals filled. Just a quick sanding of the fins then a couple coats of gray primer followed by two coats of gloss white. Giving the white a couple days to fully cure, I then masked off the body tube to paint the nose and fins red. Another two days' wait and I applied the Peel n Stick decals. I generally don't like Peel n Stick but can appreciate the ease of them if this were a build session involving a large number of kids.
Construction Rating: 4 out of 5
Flight:
For first flight, I had perfect conditions with barely a trace of wind. I opted for a B6-4. It flew straight and true but the delay was a bit early and I think it could ave done better on a -6. Ideally, I'd probably opt for a C6-5, though that would put it pretty high up and under a chute on 5 mph winds could be a very long walk.
Recovery:
The chute deployed fine, but the combination of all-Kevlar® shock cord and plastic nose cone proved to be a very weak point. The Kevlar® tore through the shoulder, leading to separation. Fortunately, with such light winds, I was able to recover both the tumbling body and the chute/cone.
Easily repairable but I think a better solution with such a thin plastic loop on the cone shoulder would be to include about 12-18" of elastic to act as a better shock absorber and gentler effect on the plastic shoulder. In fact, I had used a series of braided slip knots on the Kevlar® specifically to reduce the tension exerted on the shoulder.
Flight Rating: 4 out of 5
Summary:

PROs: Very nice flyer, pretty cools decals add to the appearance
CONs: Plastic nose cone shoulders on this cone (13 and 18mm as well) are too thin for just Kevlar® line
Overall Rating:
4 out of 5