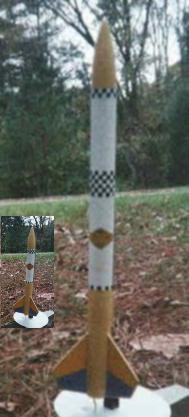 Brief:
Took an already good Custom Venture and added a 3" payload section, making it a rocket I call AdVenture.
Modifications:
About the only real hard part was to make the coupler. If you don't have a lathe, you could just cut down a 24mm composite motor casing and add some attachment hardware. I made mine balsa, though. I simply added a section of scrap 24mm tubing, glued the balsa coupler in place with white glue, and painted it white to match the rocket. Then I added some checkered decals, and it was complete. I have a second nose cone that is completely hollow (just cut the end off an original Custom nose cone) for those long payloads.
Construction:
This is as simple as it can get! I wanted a rocket to compete in our club's Quadrathon, and thought the Venture would make a good candidate to add a payload section. I just took a chunk of balsa out of my parts bin, turned it slightly smaller than 24mm, and cut it about 5.5 cm long. Then I added a screw eye to attach the snap swivel to. Instant payloader!
This rocket is so easy to build it can be done by a complete novice. Once finished, the rocket is really tough and a great flier. The extra length didn't have any effect on stability, but it sure makes the rocket look better. And the snap swivels allow me to convert it back in no time.
Flight:
I wouldn't fly it on anything smaller than an A8-3, and even then that's only for "A" altitude contests. A C6-5 or C6-7 is ideal. The original 12" parachute would be marginal with a payload, but a 14" mylar chute is perfect. Sadly, I had some problems with the paint not drying in time, and didn't get to compete in the Quadrathon. Oh well, I'll be there next year!
Summary:
The Custom Venture is a good little rocket if some quality control issues are addressed. The cheap price and stable flight characteristics make it a great candidate for modifying into a payloader, as well as a 24mm "E" powered payloader. It's tough, inexpensive, and flies great.