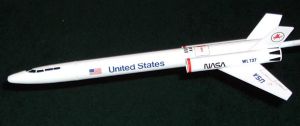 Brief:
This was originally produced by Estes Industries and is currently out of production (OOP). Plans were obtained from Ye Olde Rocket Shoppe. Design was for an 18mm mount with a parachute recovery.
Construction:
Design has four fins with 2 representing wings and 2 rudders. Two long sections of body tube represent scramjets.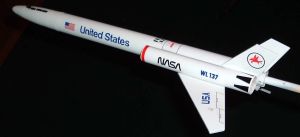 Components:
1 BT-55 body tube 14" long
2 BT-50 body tubes 6.5" long
1 BT-20 engine tube 2.75"
2 CR2055 centering rings
1 Engine hook 2.75"
1 BNC-55AO nose cone
3/32" fin stock
36" shock cord
18" parachute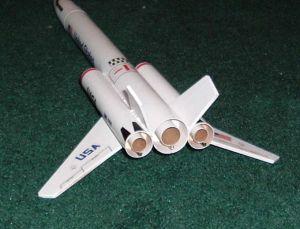 The instructions were very straightforward and followed a logical sequence, however, it did not mention sanding the root edge of the wings at an angle to fit tight against the body tube. I also sanded the root edge of the rudders into a 'V' shape to fit tight between the main body and scramjets. I put in the standard 18mm motor mount in the main body tube and later added 13mm motor mounts in the scramjets. I used the standard tri-fold shock cord mount and an 18" parachute. No nose weight was required for the standard configuration but I added weight after adding the additional motor mounts.
I had all of the parts needed for construction at hand with the exception of the nose cone which I bought from BMS.
Finishing:
The model was given an overall coat of white paint and the decals were applied to give the desired look. The decal scan from Ye Olde Rocket Shoppe was grainy so I cleaned them up using Microsoft Paint. The flag decals lacked stars so I substituted flags that I had made myself. The blue was too light for the flag so I used a darker shade of blue. I printed them on Bels decal paper and coated them with Krylon Crystal Clear before application.
Construction Rating: 4 out of 5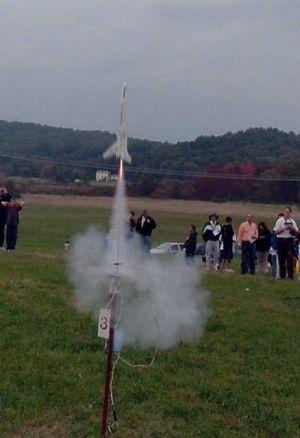 Flight:
I flew the model for 3 flights on a single motor and then added the motor mounts in the scramjets.
First flight was on a B4-4 and the flight was straight but arched over and ejection was past apogee. The second flight was on a B6-4 and ejection was still past apogee but just barely. The third flight was on a day with winds in the 15-18 mph range and on a C6-3 and the rocket went up straight but the back end displayed a lot of undulation possible due to the asymmetrical design and the high wind.
After adding the motor mounts in the scramjets, I flew it twice on a combination of C6-5 main and A10-PT in the outboards. Flight on this configuration was nearly perfect with a high straight flight and ejection at apogee.
Recovery:
I used the standard Estes type tri-fold mount with a 36" piece of 1/4" sewing elastic. Recovery on an 18" plastic chute was acceptable for the large field I was flying on with all recoveries (except for the high wind day) within 100' of launch pad.
Flight Rating: 4 out of 5
Summary:
I really enjoyed this clone. It has that futuristic "space plane" look that I personally am attracted to.
Overall Rating: 4 out of 5