Brief:
A Modified Mini Marz Lander with a lengthened motor tube to accept Apogee's C6, 13mm x 83mm, motor.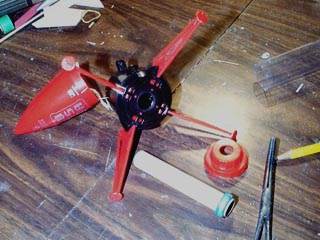 Modifications:
Parts needed are (1) 13mm Airframe Tube 3.25", (1) 13mm x 18mm x 0.25" centering ring, (1) 13mm x 0.25" Engine block.
The first thing I did was to enlarge the holes on either end of the lower section using 220 grit sandpaper rolled inside out on my hobby knife. This also removed the part of the cardboard tube that was glued in. I enlarged the hole till the new motor tube slid in with only a little resistance.
Next I glued the motor block in, I left about 1mm sticking out of the top of the tube because I wanted a little wiggle room in case one of the motors was a little long. After a light sanding on the bottom of the tube, I put a small bead of carpenter's glue around the tube about 1/16" from the end and slid the centering ring on about 1mm past the end. After the glue dried, I put a small fillet on the bottom of the centering ring.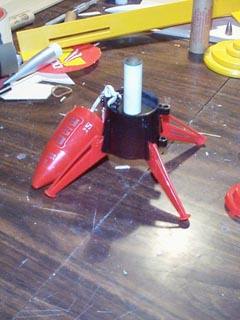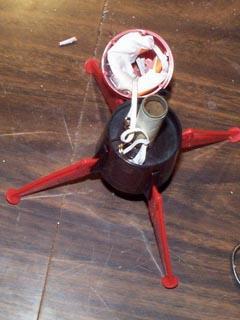 After the glue dries slip the tube in from the bottom of the rocket and you're ready to get some serious altitude!
It's RTF, you know!
Flight:
Estes recommends the A10-3T. The C6-7 is 4 times the motor! The hardest thing is getting the chute in, I wrap the nose cone end of the shock cord with Estes wadding, and use a long and skinny roll on the chute. Fold another square of wadding over the end of the motor tube slip the cone half way on and them gently stuff the chute around the tube in the cone. I inserted the incredibly long motor and installed the lock ring. I checked the copperhead igniter for shorts (I always find at least one) slid it in as far as it would go, folded it over and taped it to the lock ring. I made sure to tell the LCO that this is a heads up flight (that got a laugh). When the LCO pushed the button I couldn't believe how loud the motor is! The crowd was impressed too! Lots of people saying wow! It climbed straight up over 1000 feet, (RockSim says 1280) the chute popped a little after apogee, and came down 10 yards east of the pad. Inspection showed some discoloration on the motor tube from the heat and the ink on the motor label transferred to the inside of the tube! Otherwise no damage.
Summary:
Major Pros: Smoke! Noise! Altitude! Plus the look on everyone's face when it takes off! The only Con is that each flight costs 7 bucks! RTF can be fun!