Brief:
Single stage, 18mm mount, parachute recovery, scale model of NAVY SLCM Tomahawk cruise missile. Water transfer decals included.
Construction:
Kit includes 1 body tube, 6 die-cut balsa fins, paper shrouds around tail and for the belly scoop, typical Quest recovery system that connects to motor mount with Kevlar and elastic lines, plastic nose cone, and water transfer decals.
The instructions in this kit are pretty basic and straightforward. The big CON in this kit in my opinion is the paper shroud that wraps around the tail of the body tube. You have to cut out this paper shroud and try to glue it perfectly along the dotted lines. Then you have to glue the edge of paper to the edge of the body tube. Not exactly an easy task to perform. My shroud was just a little bit off the dotted line but it really showed when I glued it to the body. You could tell I wasn't getting paid to build it. Other than that the kit was pretty basic. On the belly scoop I folded the paper tabs into the scoop vice flattening them outward from the scoop. This helped the scoop look more flush with the body.
Finishing:
Since my tail shroud wasn't placed exactly edge to edge the water transfer decals didn't end up lining up with my paint job. Even with that slip up though, this is still a cool looking rocket. Cool color scheme with the paint and decals and the two forward wings really stand out in flight. I'm giving the construction a 4 because of the good challenge the paper pieces present, but it could have been a 5 if there was a better way to configure the tail shroud piece.
Construction Rating: 4 out of 5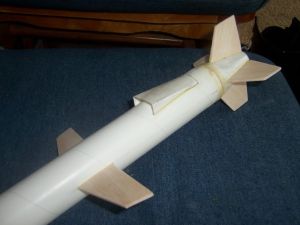 Flight:
Very cool first flight. I flew it on an Estes C6-7. The ascent was beautiful. Straight up with almost zero corkscrew and the chute popped clean, however the 7 second delay was about half a year too long. It wanted to lawn dart for about 100 feet but it finally popped and landed with zero damage. I don't think I'd even want a 5 second delay for this rocket on a C motor. I would probably recommend a B6-4 and a C6-3 for good flights. B4 motors would be good for small fields but you're really missing out on this kit's potential.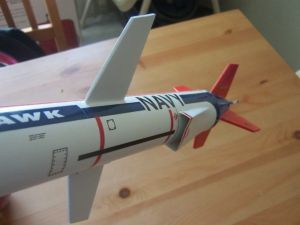 Recovery:
Zero cons for recovery. Perfect size chute for this kit. Don't even think of using a streamer if you plan to fly it again.
Flight Rating: 5 out of 5
Summary:
Big PROs are that it's a really cool rocket that you can change the paint scheme a lot and keep it looking scale, and the two forward wings make it look really neat flying. CONs, again, are the paper shrouds. Maybe thicker paper could be used.
Overall Rating: 4 out of 5