A very simple ARF rocket. Plastic snap together construction. This would make an excellent first rocket for younger rocketeers or for a low altitude demo.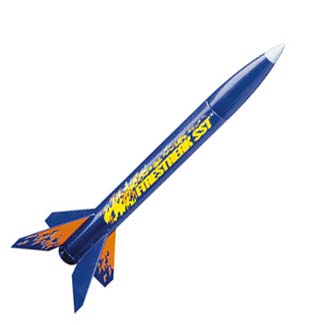 Construction:
Inner body tube: Paper. External airframe is plastic.
Fins: four pre-screen printed with art.
Motor mount: intnerior small paper tube. Also houses the streamer and engine.
Nose cone: also plastic. Snaps together like the rest of the airframe and comes in 2 halves.
Engine retainer ring: Is a bit tricky to use as it turns then locks onto the airframe. Very easy to break. Fortunately, our kits contain two of these rings.
Construction took about 1/2 hours with my son. No special tools needed although some muscle is needed to snap the body tube together snugly. I opted to use plastic cement on the nose cone halves to keep it firmly together.
Finishing:
Finishing was with a full body self-adhesive decal. Decal application is required as it helps to hold the outer plastic airframe together. Final look is a high gloss purple rocket with orange flames. Perfect "kid colors"
Construction Rating: 4
Flight:
We flew this rocket on 1/2A3-4Ts. This put the rocket up about 80 feet or so. Very smooth straight flight with ejection at apogee and landed perhaps 20 feet from launch pad every time.
Wadding or dog barf is a must. The inner tube made packing the streamer and shock cord a bit tight. I was afraid it was in too tight, but the ejection charge handled it fine.
Recovery:
Shock cord was attached between the plastic outer airframe and the inner tube. Not your conventional method. Assembling the recovery system was the most complicated part of this kit. Streamer was so tightly packed that when it come out for recovery, it stayed somewhat crumpled.
We did experience slight singing on the shockcord and streamer.
Flight Rating: 3
Summary:
This is a simple build and would be excellent for kids. If you don't want a pure RTF rocket, this is a nice intermediate step.
Overall Rating: 4