(
Contributed
- by Paul Lane - 07/06/08)
First off thank you for the humongous box of parts. The only thing was/is that with that many parts to use, I would still be building. I just used my inspiration and picked the best parts that would build a rocket that could fly on a single use AeroTech F or G motor.
I ended up selecting (naturally) the strongest "huskiest" tubes. I was intrigued that I had been given so many (6) different nose cones that fit my "D"motor size body tubes. I used the slightly larger tube (too big for a 29mm motor) for the core body tube.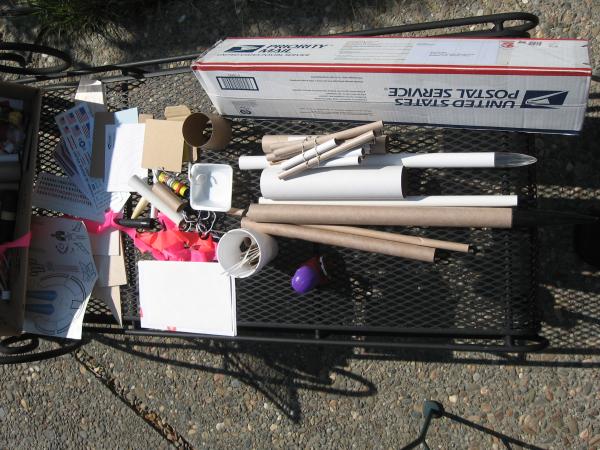 I stacked the size tubes around the core in ascending length, glued all with Superglue. And built a payload nosecone section out of extra core tubing.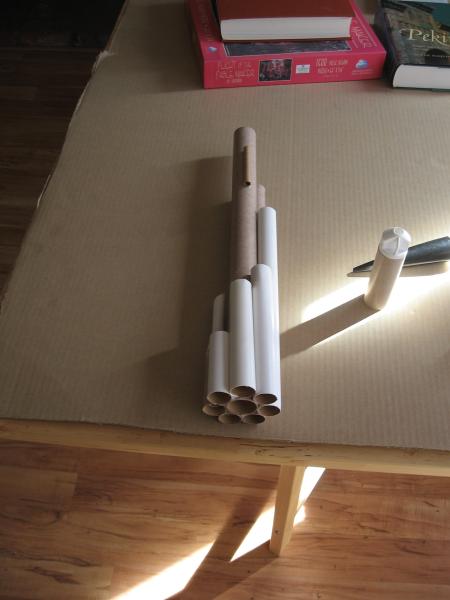 Notice in this photo that a 29mm motor would be too loose in the core tube, so I took a couple of core tube scraps and cut them down the middle vertically with a pair of scissors. Then I glued them (5 minute epoxy) into the tail end of the core tube. This in effect built a real cheap motor mount. I will friction fit the AeroTech motor at the field.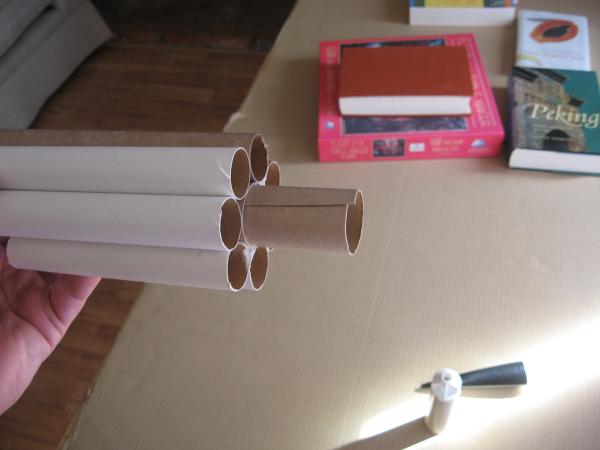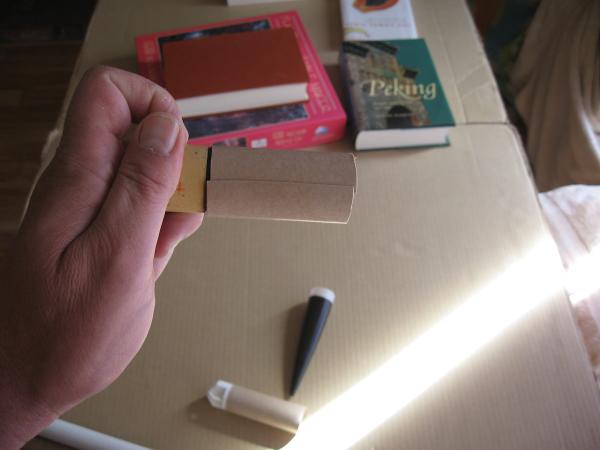 For the recovery "harness" I doubled up the cheapo elastic shock cord, and knotted it every 2 inches. This made a surprisingly stronger shock cord. I mounted the shock cord to the core tube by using an old (very old) Estes method by slitting the body tube near the top (but below the nose section coupler) and snaked the elastic in and out in a very simple weave.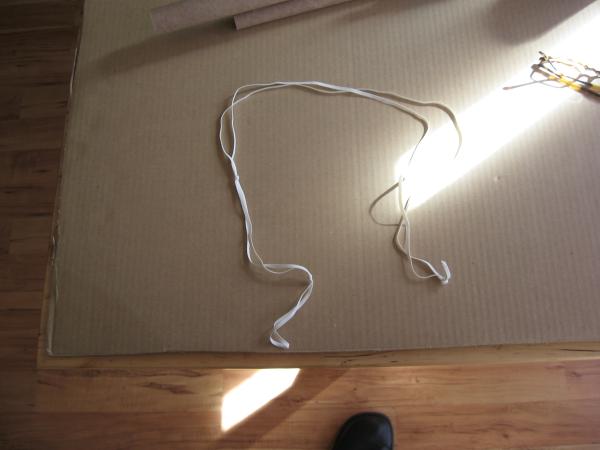 A very quick paint job on the body tube section with some Rustoleum Lime green. And I paint only some of the nose cones and transitional nose cones. To keep that "kit bashed" appearance.
Notice that I constructed only 3 fins (prepainted them black) from the lightweight balsa, but I enhanced their strength by gluing (5-minute epoxy) 2 sheets together with the wood grains at a 90-degree angle to each other.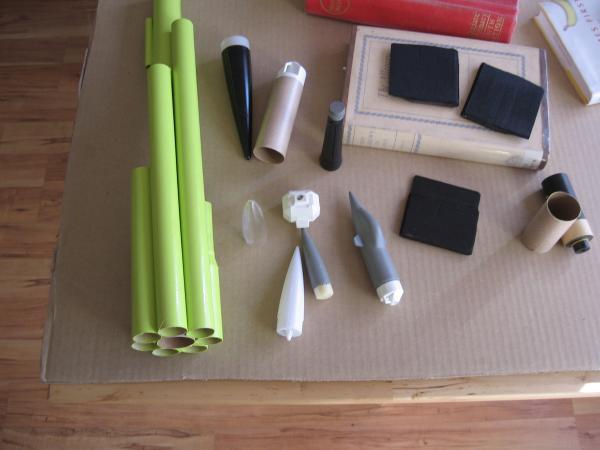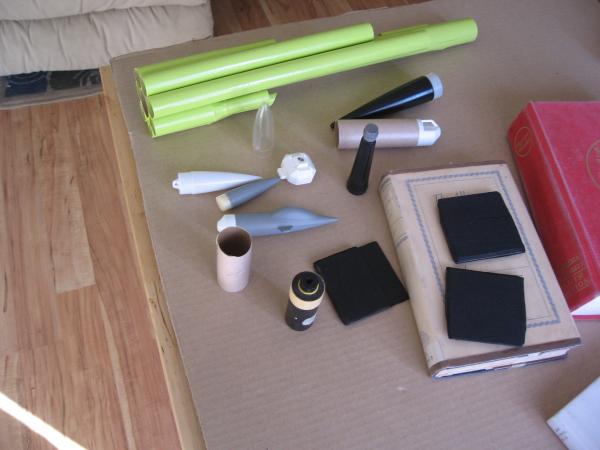 My flights of the "Box O' Parts Contest" rocket took place on Sunday May 18th, 2008. This was at Tripoli Central Cal's "Ninth annual Dairy Air" In Helm Ca. (near Fresno). I could only make it to one day of this launch due to work commitments. So I had to make both flights back to back with the conditions being very hot at 105 degrees.
I chucked the intended motor I had brought as too wimpy and bought 2 AeroTech single use F-25 motors, with 4 and 7-second delays, respectively, from a real great vendor. WHAT'S UP HOBBIES?
Yikes, due to camera trouble (low batteries) I HAVE NO LAUNCH PHOTO, sorry.
At the field I found that my launch lug set up was too small for the high-powered rods. So I took a low powered rail and stuck it in the dirt by the HP pads. It worked ok. With the rod passing through the lug and a single outer tube that I had left vacant (no nose cone). This single empty tube enhanced stability due the cockeyed arraignment of the three fins.
The LCO announces this as an Essence Box of Parts contest rocket. Then mentions that it's Paul Lane's rocket so heads up. Boy it's nice to have a legend.
5,4,3,2,1 blastoff. It was quick to leave the pad on the shorty launch rod. It flew really well (surprise!). The motor I picked (F-25-4) was perfect and deployment was optimal. I would guess it flew to about 1500 feet. Recovery was by multi plastic streamers, since NO PARACHUTE was included in the Box O' Parts. The recovery was nominal, with no fin breakage.
I quickly prepared it for a second flight using the AeroTech F-25-7. Another tremendous flight, very straight. I would say to 1800 feet this time. Recovery was only so so, with 2 out of 3 fins snapping off. All is reparable though. And I have included some post flight photos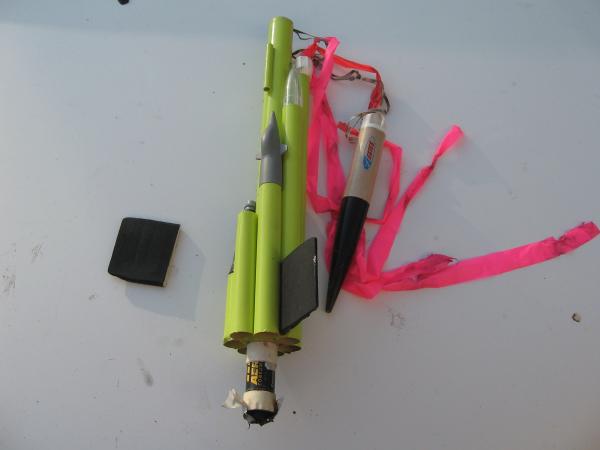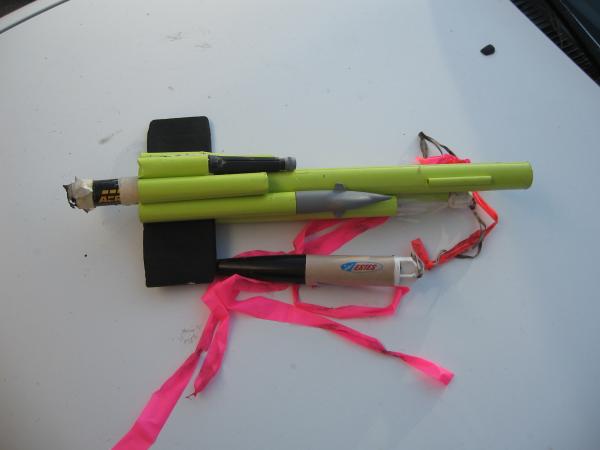 So overall this was a successful project. I will donate the unused parts to my NAR section; they will probably use them for an outreach of some kind.
WHAT A FABULOUS AND FUN CONTEST AND IT WAS GREAT PARTICIPATING. SEE YOU NEXT YEAR FOR THE BOX O' PARTS ROUND 2 CONTEST.