Brief:
Scale rocket of the Russian SA-2 SAM Guideline. Lots of fins and detail. Very easy build for anyone who has built a Scale Kits rocket before.
Construction:
The kit comes with 2 very thick body tubes, a balsa nose cone and transition, laser cut plywood centering rings, basswood for all 16 fins, popular conduits, very nice nylon parachute, nose weight, and sturdy shock cord. The only thing missing would be some kind of positive motor retention.
Scale Kits' instructions are some of the easiest I've ever read. They're on par with most Estes' kits. Diagrams are large and easy to read. You end up cutting the instructions apart to get the fin marking guide, so if you'd like to keep the instructions intact, make a copy of that page.
The hardest part of building this kit was gluing and aligning the 16 fins. As long as you take your time and make sure all 16 fins line up, it'll end up a very nice rocket. I was curious how the ejection gases would go through the transition before I built the kit, but it comes hollowed out and the motor mount is attached to the middle of it and actually makes this kit stronger.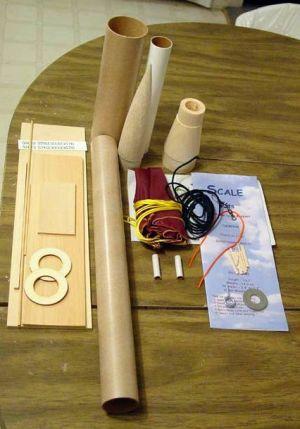 Finishing:
The body tubes have virtually no spiral to fill. The fins were sanded and filled with sanding sealer. The balsa nosecone and transition soaked up 5 coats of sanding sealer and were still asking for more. I finally decided to just fill the grain with several coats of primer with sanding between each coat.
Scale Kits included some waterslide decals that applied very well. I had to search the Internet for a good paint scheme I liked. I ended up with flat navy gray with black/silver nose cone. The conduits were painted black. The strakes were yellow and white. This was as close as I could come to the actual Russian rocket.
Construction Rating: 4 out of 5
Flight:
After building the rocket, I built it in RockSim to find the CP. I marked the CP and tested the CG. After finding that they were too close for my liking, I added more nose weight. The list of recommended motors is not the biggest but not short either. I had a G64-7 reload already on hand so I decided to use that. It turns out that I should have used either a smaller reload or added more weight to the nose. The rocket went up straight for 100 to 150 feet, made a 90 degree turn, and started a horizontal loop. After one complete loop, it turned towards the ground and buried itself. After talking with several other rocketeers onsite, it looks like it got it's initial stability from the rod, lost it after the first 100 to 150 feet, and then gained it again as the motor burned out. The rocket was totally destroyed.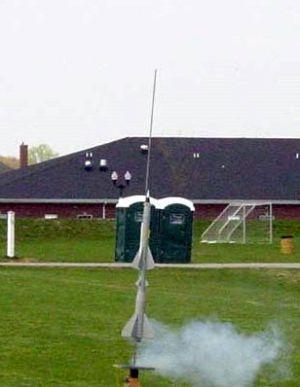 Recovery:
I loaded the rocket with a Nomex blanket and packed the parachute with a little baby powder to ease ejection. I think it would have ejected clean and floated gently to the ground if it wasn't already 3 inches deep into the earth when the ejection charge went off.
Flight Rating: 3 out of 5
Summary:
This rocket looks stunning on the pad and has the potential for beautiful flights on smaller motors. I wouldn't use anything above an F motor in this rocket and add additional nose weight to increase stability.
Overall Rating: 4 out of 5