Brief:
This is a simple, high-performance OOP rocket from the Estes catalog of '91 and '92.
Construction:
It includes an engine block, paper shock cord mount, launch lug, lug offset, shock cord, streamer, screw eye, balsa nose cone, BT-5, and 3 die-cut fins.
The build is easy and instructions are excellent.
I sanded the fins to an airfoil shape, filled the tube spirals, and painted it with a sky blue metal flake paint for an eye candy look to try to improve on the spermatozoa look. The kit does not come with decals but does include a foil wrap that doesn't fit.
Construction Rating: 3 out of 5
Flight:
PROs: Flown on 1/4A3-3T, 1/2A-2T, A10-3T, and A3-4T. It flies great. You would think the bulbous nose cone would slow it down, but it doesn't. It is fast, straight, and high. CONs: You have to be careful not to knock the nose cone off when you're putting it on the launch rod.
Recovery:
PROs: It always comes streaming back. CONs: It always comes back.
Flight Rating: 3 out of 5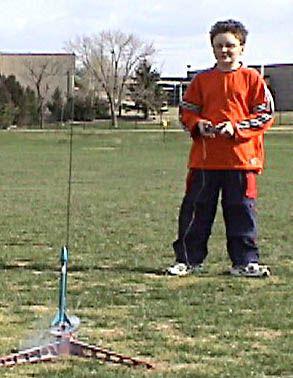 Summary:
Do you have a rocket in your box that's impossible to kill? Here's mine. I've launched this one probably 20 times with no damage, not even a broken fin. (I have replaced the shock cord a couple of times of course.) It is usually used for wind testing to find out if it's possible to launch a real rocket. I built this as an example at a build session. We got a closeout package deal of a large lot for cheap. This gets my nomination for the ugliest Estes rocket of all time.
Overall Rating: 3 out of 5