Rocketman - Space Hawk
review is provided courtesy of:

As I was browsing on the internet I found an awesome looking rocket, the Rocketman Space Hawk. About a week after ordering, the box containing my kit came packed well and without any damage. Upon opening the box I realized this was one quality kit. It contains PML body tubes, Rocketman R4C chute, G-10 fiberglass fins, and heavy-duty strap nylon with hardware. I checked to make sure all the parts were there and to my disappointment the 38mm motor tube was missing. I had to place an order from PML anyway so I just ordered another one.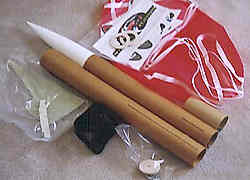 I started construction by filling the spirals. I should have used 2 applications of filler on the tubes but in my haste I only put one coat. The grooves are still noticeable but they are at least filled. Next I proceeded to assemble the motor mount. The strap for the recovery system is glued under the forward centering ring in this kit. I have several other rockets that use this also and it's worked well so far. To insure the strap would stay in place while the epoxy cured I used several strips of masking tape to hold it where it belonged. Next came the assembly of the payload section. It went together without a hitch thanks to the helpful directions. I made one slight modification about two months after assembly. I drilled one 3/16 inch hole in the bottom of the bulkhead so I could use my new altimeter. I also drilled a vent hole in the payload tube so my altimeter could function properly. Finally I attached the strap and parachute to the eyebolt with a quiklink and assembly was complete.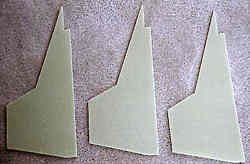 This rocket's construction was rushed because I wanted to take it to RATS. I only had a little bit of free time to paint so I couldn't do anything elaborate. I primed it first then I ended up painting it red with a white nosecone. I also applied the included decal.
The first flight of this rocket was basically to test my altimeter for another project. It flew low and slow on a G80 to 616' recorded by the ALTS25. I set it up for apogee only with motor backup. At apogee the R4C deployed and brought the rocket safely down. The only problem was the nosecone had jarred loose upon ejection and free fell to the ground. I was found easily without damage about 50 yds. away. This was my fault because in my rush to launch before the rain hit, I neglected to friction fit the nosecone.

Overall the Space Hawk is a quality kit that's fun to fly and build. I feel this a great kit and would recommend for anyone looking for a stylish rocket in the level one motor range.
Retail Price: $115
Written and submitted by Todd Harrison for Rocketry Online -- Copyright 1996-2000