Brief:
Nice single-staged one-fifth scale model of the Thiokol D-Region Tomahawk sounding rocket.
Construction:
KIt was made up of two long body tubes, a plastic nose cone with nice detailing, a plastic fin can, four plastic fins, a long stuffer motor mount tube, two plastic 5mm launch lugs, a twist-lock motor retainer, a plastic detail piece representing the prototype launch lug, a long rubber-band shock cord, a small sheet of waterslide decals, and an 18" Nylon parachute (a first for Estes as far as I know).
Estes has a serious winner here...a Skill Level 1 scale model. I agree...anyone who is a little careful can build this one, and if you're only a little more experienced you can turn out a serious museum piece.
Instructions are typical Estes...well written, logical, well diagrammed. The D-Region Tomahawk is solid as they come...nearly solid enough to hop up to 29mm power! In fact, I oughtta buy another and prove it...oops, wife is looking at me like "we need several things first".
With the fin can system, you can't misalign the fins. The two main body tubes couple with a three-inch tube coupler that also forms the top end of the stuffer tube centering ring setup.
Construction PROs: Solid as they get, nice touches all over the place.
Construction CONs: Can't find any...looked HARD, I did!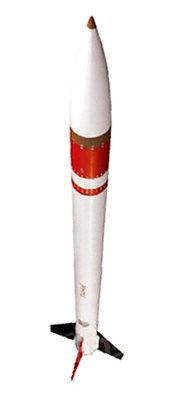 Finishing:
Nice simple paint scheme. I deviated in only one way...I did everything in gloss paint, added the waterslide decals, and sprayed on a coat of flat clear.
Finish PROs: Simple clean paint scheme, waterslide decals.
Finish CON: Acres of surface to paint! (grouse, grouse!)
Construction Rating: 5 out of 5
Flight:
Flew my Tomahawk on the 26th of May at the DARS field at McGregor. Used D12-5s for all three flights. The twist-lock motor retention setup holds motor well. I used "dog barf" wadding (lots of it, dern it!).
Very nice 18" nylon parachute provided brought the bird down nicely from 750 feet, 675 feet, and 735 feet respectively.
Nice straight flights in all cases, ejection right at apogee, no savage walk required.
Only real improvement I can suggest is an ejection baffle system instead of it needing wadding.
Recovery:
Usual Estes rubber-band shock cord and folded-paper retainer setup. Nice quick descent...a less-sturdy rocket than this one would need a bigger chute and drift a lot with it.
Flight Rating: 4 out of 5
Summary:
Biggest PROs: Sturdy as it gets, nice detail parts, classy waterslide decals, flies nicely.
Only CON: Wife won't let me buy another for a 29mm conversion!
Overall Rating: 4 out of 5