Contributed by Ken Johnson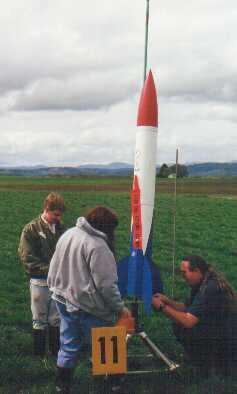 Modifications:
Anti-zipper airframe
Full 2 layer fiberglass
Extra centering ring - mid fin
Totally redesigned fins - g10 and 50's styling
Dual recovery
External access to electronics bays
Internal wire race for timer air-starts
Custom built "Y" shock cords - 1" x 50' Tubular nylon
Full 98mm x 32" main motor mount
6 each 29mm x 18" motor mounts
Custom centering rings
Internal thrust ring
I had to buy a scroll saw just to do the centering rings. I started with 54mm to 7.6" rings and butchered them from there. I also had to buy a jig saw and abrasive saber-saw blades that were designed to cut tile. This was used to cut the massive notched G10 fins. Don't try to learn to fiberglass on tiny kits, nor one this big. Go medium like an EZI or similar kit. I did it and it came out perfectly, but I think that I was just lucky. Use premium epoxy as the life of the rocket is at stake!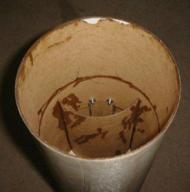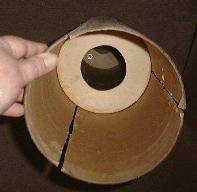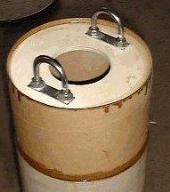 Construction:
Base airframe is unchanged from the stock LOC Bruiser. I decided to loose the ridiculously small fins with massive ~14" X ~20" 50's style curved fins out of G-10. The motor/fin assembly was built and stressed outside of the airframe and then secured into the pre-slotted airframe. I also cut the airframe to just accommodate the full 98mm motor mount. This allowed for positive anti-zipper. I reinforced the airframe with 2 extra coupler tubes to give me a backing for two external electronics access doors. The one in the booster will house timer for air-starting 6 outboard 29mm motors. The payload access door allows for access to custom altimeter bay. I also used a 1.125" ID plastic gas pipe for the launch lug. I also installed drywall butterfly anchors for 3 launch lugs for Black-Sky rails.
The rocket kit was well packaged and complete. The paper tubes were good quality and would probably hold up to J power without modifications. (Not Me). There were minimal instructions as expected with an advanced kit. There was a fin alignment page and construction detail sheet.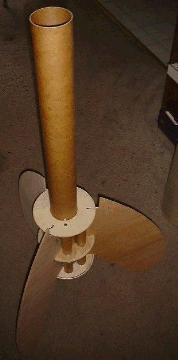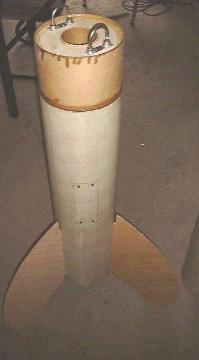 I made a big mistake while finishing this rocket! Screwed up a PERFECT fiberglass job, and here is how I did it: 1) Filled the FiberGlass dimples with bondo (good idea) 2) Found most beautiful wrapping paper that shimmered (good idea) 3) Rolled on a thick coat of epoxy (good idea) 4) Smoothed the wrapping paper onto the tubes (bad idea) The next morning when I got up to go into the garage and view the most awesome holographic finish! I sat and held back the tears! The damn paper had buckled and partially separated from the backing. Obviously the holographic material had become separated from the white paper backing and then stretched slightly. Looked like underwear with terribly worn out elastic. My heart was hurting and only 9 days from launch! I ran out and purchased an orbital sander and went through 30 full sheets of coarse (expensive too) sand paper. Five days later I had what could be called an Earl Schribe base for a paint job. I could not get all of the epoxy ridges and valleys off. I just painted it the best that I could. I think that it came out pretty good, considering what I went through!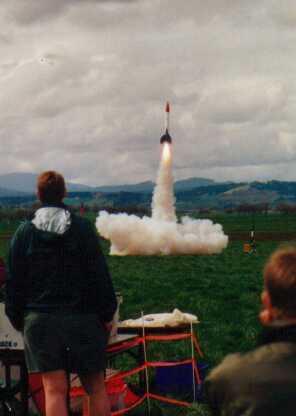 Flight:
Recommended motors with the kit were big "I" to big "J". But that was THEIR kit, and this was MINE! A 54mm K-550 was the only choice in my head. Sim'ed out at 2000'. Plenty of room for our 5000' waiver. When I built the fin/motor unit, I planned ahead (this time) and put in 3 each 1/4-20 "T" nuts and epoxied them well on the inside for positive motor retention ability. The adapter (54 to 98) that I built was short of the motor casing. This allowed me to tape the adapter to the motor casing where the casing protruded about 6" above the adapter motor mount tubing. Then 3 each 1/4-20 bolts and a couple of fender washers took care of the rest.
I custom built the two shock cords. Both 1"x50' fluorescent nylon webbing. I sewed in a "Y" attachment point and used steel locking d-rings for attachment. I could quickly take the whole thing apart in a matter of seconds and put it back together in the same. I know, because I had to double-check the locks.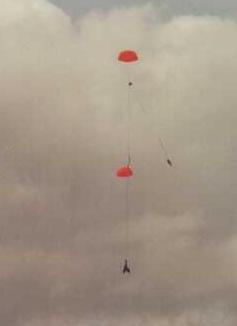 The launch was absolutely perfect. Not too slow and not too fast. Lots-o-noise and wonderful smoke shroom! Did not spin or even rotate, straight up. At just below apogee, the RRC2 controller popped my homemade ejection charge and the 6' drogue opened perfectly! At 500' the main charge popped and ejected the 10' main. It was picture perfect; a HUGE chute that took about 100' and 5 seconds for the main to fill completely, but it felt like 20 minutes! She landed upright and almost stayed that way. I could have launched again in the time to reload. Not a scratch!
Summary:
The small fins of the original kit are just too small. I think that it takes away from the overall awesomeness of this kit. This is a most perfect modification kit and/or easy level II. I have and will recommend the LOC Bruiser to one and all!
This kit really taught me about building rockets from scratch. I know that doesn't make any sense, but think about it. I spent TONS of time examining and redesigning something that I KNEW was already well tested. I could concentrate on my talents and forget about the other things. Then I had to take into account the original kit design to learn how my mods had effected it. Good method. I will mod a lot more (and REAL soon).
Flight Log
- Post a Comment -
What You Can Do
eBay Offers:
LOC PRECISION BRUISER-EP HIGH POWER MODEL ROCKET KIT
>>> Product Details >>>