Rich DeAngelis's Page
AKA: RichD

Location: Exton - Southeast Pennsylvania

Certification Level: self certified level 0 (heehee)

Club Memberships: Southern Pennsylvania Area Association of Rocketry (SPAAR) NAR #503

Favorite Rockets: Estes Nike-X, Bandit, Andromeda & Beta

Biography:

Born Again Rocketeer: Flew all sorts of Estes Kits as a kid in the '70's. Restored most of them and now building many new kits from different manufacturers. Completed a high-tech launcher and working on several other electronic applications for rockets, also doing some aerial photography missions. Mostly just building and flying a bunch of new low-power rockets. I'm creating an ever expanding data base of altitude, speed, etc. readings, as I mostly fly an altimeter in each rocket. In this low power arena I will make all the mistakes I possibly can before moving up to higher power. I'm learing something new about building or preparing rockets with each flight. Member of Lancaster PA's SPAAR, good club. I specialize in (read: "can only afford") smaller (up to E) rockets. Generally a bit anal about flying rockets - never lost a model yet and hope to never loose one (since then, I've lost PARTS of rockets, but I've always got some pieces back...knock wood), I strive for perfect flights, and learn from all the mistakes (Oh, so many of them!) I will likely be getting into more powerful stuff as my budget allows: F and G at the most.

Favorite Quote:

Failure is not an option.

Personal Home Page: http://www.barocketeer.blogspot.com/

Club Home Page: http://spaar.org/

Facebook Page: http://www.barocketeer.blogspot.com/

Google+ Page: http://www.barocketeer.blogspot.com/

RocketReviews.com Pages:
| | |
| --- | --- |
| | |
2014-05-24
Flight

Second flight was planned pretty much the same as the first. For starters, it was confirmed that the -5 delay was the best choice. The second motor appeared much weaker than the first. It lit fine, but seemed to accelerate slowly – giving me ample time to track it with a ... [More]
Flight

It was a beautiful day for launching rockets, although the wind was a bit breezy. But it was a very good day for aerial photography – very clear and not hazy. I decided to launch my video camera in the C-Thru before anything changed. Previous flights showed that ... [More]
Flight

I considered using a C11 motor for a low-power test, but I was looking for fun, and the D12 delivers fun. The Stone burst off the pad with 9.1 Gs of acceleration, burning for 1.8 seconds and averaging 2.6 Gs thru the thrust phase. It then coasted for 4.2 seconds from a top speed of 101 mph and ... [More]
Flight

The MIRV was not scheduled to fly today, I had plenty of other important test flights to do, but for some reason I just wanted to see the MIRV up there again, so after completing my camera flights, I sent the MIRV up in this "a-bit-windy-but-I-don't-care" weather. As usual, ... [More]
Flight

Again I decided to go with my gut and ignore the official flight schedule. I just repaired the re-cracked fin root of this rocket and wanted to continue comparing Estes and Quest's motors. If I complete this third Quest flight, then I have three tests of each brand motor to compare. ... [More]
Flight

Another B6 test flight for the Alpha. Last time I was distracted and forgot to record the data from the altimeter before clearing it, so this is a repeat test flight. As the light rocket took off fast and high, I couldn't keep it in sight for the camera, and missed all of the apogee ... [More]
2014-03-09
Flight

This was my first flight of the year, after a long autumn and winter with not a single flight because of the weather. Today was just tolerable, a bit windy but sunny and clear. The fields were still mostly snow covered and soaked from an overnight rain, with snow, slush, puddles and mud. This ... [More]
Flight

This flight was to be the second B6 motor test for the Alpha Iris. The liftoff was spectacular and seemed very fast, heading skyward without much concern for the stiff breeze. I apparently did not concern myself with putting in too much wadding, as three squares apparently was not ... [More]
2013-10-06
Flight

This was a simple sport flight of the Ricochet, which I haven't flown in over a year. As the propellant started burning, the rocket took off with 10 Gs of acceleration, averaging 3.9 Gs for the full 1/2 second burn. It reached a speed of 44 mph, then coasted for 2.4 seconds to reach an apogee ... [More]
Flight

As the motor came to life, this small rocket reached a peak acceleration of 16.6 Gs. During the 6/10 second burn, it averaged 5.7 Gs. The trajectory was straight up and very fast. It made a top speed of 71 mph before coasting for the next 3.3 seconds to an apogee of 221 feet. Like the last A8 ... [More]
2013-06-28
Review

The Estes Ricochet is a low power rocket kit. Although light, at 22 inches high it seems "bigger". It uses 18mm A,B and C motors. I like the military-missile style of this rocket. I enjoyed building this kit and I enjoy flying it because it flies well. Since it is relatively light, it flies ... [More]
2013-06-27
Review

MIRV is short for Multiple Independant Reentry Vehicle. The MIRV is a unique two-stage rocket from Estes that has three simultaneously firing second stages. The booster is an 18mm B6 or C6, and the three second stages use the mini 13mm A10-3T. The first booster stage fires and lifts ... [More]
2013-06-26
Review

The DEFCON 1 is a 24mm, mid-size rocket kit from the late Quasar One company. The design is a good performer, the styling is beautiful and easy to achieve with the decals, and the short fins will resist damage on a hard landing. It is powered with C,D,E and possibly F engines (although ... [More]
2012-10-18
Review

The Estes Bullpup 12D is a sport-scale model of a 30-some year old air-launched guided missile. The real thing came in several varieties that outwardly appear different; the 12D is just one of those types. The real thing was guided by a "pilot" who remotely steered this missile onto ... [More]
2012-09-06
Very Affordable Plastic for Parachutes / How to dimension small 'chutes
Tip

I discovered a new source of colorful plastic for making your own parachutes. Just go to the nearest store that sells party supplies. There you will find plastic table covers in a variety of colors. Do NOT get the cloth or felt backed ones, just plain-old plastic. This ... [More]
2012-09-04
Building the DEFCON 1 - First Test Flights of the DEFCON 1
Build Entry

This past weekend was the first ever test flight of the new DEFCON 1. Several remarked that this was a good looking rocket, and I hoped it would stay that way. For this first test flight I chose the C11-5. The winds were dying down a bit, and I felt that the higher impulse, relatively light weight ... [More]
2012-08-24
Review

The Quest Striker AGM is a fictional Air-to-ground missile. Since it is decorated with 'US Army' decals, I assume it is to be launched from a helicopter, as the US Army doesn't have planes, jets, blimps or other such aircraft. If you forget about the 'AGM' part of the name, it looks ... [More]
2012-08-23
Building the DEFCON 1 - Final Assembly Complete!
Build Entry

OK! The clearcoating is finished and dried, now the finish is glossy. I gave it five coats of clear. I have found that one or two coats just doesn't protect the decals very much, so I have been adding much more clearcoat. I made sure the static vent holes were clear and assembled the full rocket ... [More]
2012-08-15
Photograph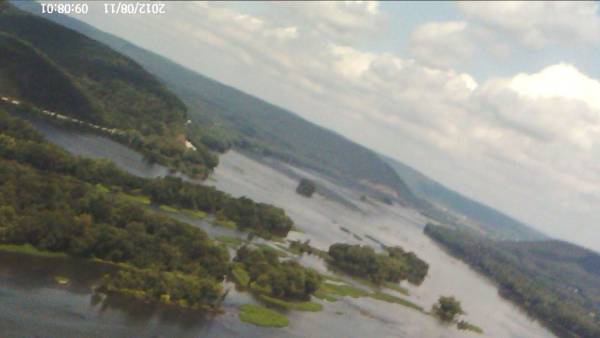 Looking Northwest from Halifax, upstream of the Sesquahanna River in PA
2012-08-08
Building the DEFCON 1 - Finishing the DEFCON 1
Build Entry

I have progressed pretty far with the DEFCON 1. I soaked in a little CA glue to the ends of the body tube and payload tube to harden them up a bit. Just a small line of glue about 1/4" from the ends of the tube keeps them from getting worn and raggedy after repeated handling. The CA ... [More]
2012-07-17
Review

The Quest Gamma Ray is a small payload rocket designed to fly on 18mm (A,B,C) motors. It does fly well. It's main unique feature is a payload section made with translucent red plastic. The payload section's diameter is larger than the rest of the rocket, so it uses a transition section ... [More]
2012-07-09
Building the DEFCON 1 - Continuing the DEFCON1 building with the body tube
Build Entry

Building the DEFCON is going well. I secured the baffle about 8 inches deep inside the lower body tube (remember I had to cut it into two pieces because of the shipping damage). On other projects I had trouble gluing baffles so far into a tube. If I spill any glue ahead of the ... [More]
2012-07-05
ESTES new kit: MIRV - First test flight
Build Entry

I used the lower-power engines as recommended by Estes: the B6-0 booster, and three A10-3T sustainers for this first ever flight of this new and very different rocket. I did not apply the decals, simply because I ran out of time to get them on and dry and I wanted to test fly this at ... [More]
2012-06-26
Paint Drying Oven Using Solar Energy
Tip

Nothing more fun than watching paint dry, right? Building rockets is fun, but all the fun seems to slow down waiting for the primer and paint to dry. A multi-color paint scheme seems to take forever. I have found out that a good way to speed up the process is to use a paint ... [More]
2012-06-24
Building the DEFCON 1 - Nosecone, baffle, motor mount and bulkhead pictures.
Build Entry

I added four new pictures of components of the build. 1) The finished ejection baffle, seen from the point of view of the motor. You can see the Kevlar shock cord attachment, connected to the other (top) side of the baffle. This has a bowline type knot on the end of it. It's a simple and secure ... [More]
2012-06-19
Building the DEFCON 1 - Picture of the nose cone
Build Entry

You can see here the unusual nose cone provided with the kit. It is supposed to remain hollow, and the screw-eye is towards the side of the shoulder. This makes it easy to add nose weight if necessary, and I suppose makes it a bit cheaper to manufacture. The problem with this unique design ... [More]
Building the DEFCON 1 - Picture of the ejection baffle being built
Build Entry

I took this picture to better show you what the baffle is like. Already installed in the baffle's tube coupler is the lowest baffle as seen from the bottom (engine side). Above that will be the baffle to the right, shown right-side-up. Ejection gas that makes it past this stage can't move towards ... [More]
2012-06-18
Build

This DEFCON 1 is a kit that appealed to me. I saw it on Apogee's website, it's aqua color and detailed decals made it stand out to me. The size of the rocket and motor were just in line with what I was looking for, something a large enough to be noticed both on the launch pad and in the ... [More]
2012-06-13
Repairing Body Tubes Damaged in Shipping
Tip

I hope you have better luck than me, but I seem to get a lot of kits shipped to me with damaged body tubes. I'll assume you realize that a crushed body tube both looks ugly and will never be as strong as an uncompromised tube and not very aerodynamic. After receiving my third busted ... [More]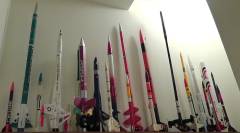 Rich DeAngelis
---
More:
---
RSS Feeds: