Brief
The Rocketarium Mega Vortico is a 24mm oddroc that is a bit different than a typical oddroc - saucer, pyramid, etc. This one resembles the rotor blades of a helicopter and spins very rapidly during ascent and descent.
Components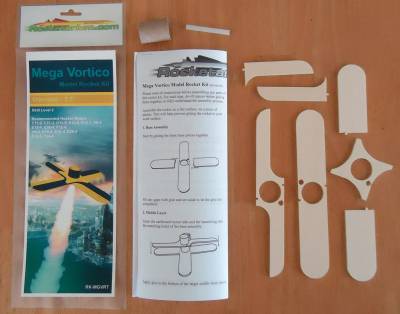 This kit includes seven light ply components that make up the blade assembly as well as the motor mount tube and launch lug. No decals are included.
Construction
This kit is really simple to build. I was able to build mine in about two hours and most of that was spent waiting for the glue to dry. I used Sig Superweld for construction.
I started by gluing the bottom blade assembly together. At this point, you insert but not glue the MMT tube to keep the assembly centered. Then the top assembly is slid over the MMT tube and glued in place and then finally, the final components are glued in place. After everything was dry, I finished the assembly by gluing the MMT tube and launch lug in place. After the assembly is completely dry, the excess launch lug on top of the rocket is trimmed off.
The Pros of construction is that this kit builds very fast and accurately due to the notched tabs. There were no Cons noticed during assembly.
Finishing
The finishing of this kit is left to the builder. The rocket can either be left as-is or painted. The face card of this kit shows a really nice yellow and blue paint job. I was going to attempt this but decided to go with something simple instead. I primed my model with some Krylon white primer, sanded lightly, sprayed another light coat and gave the kit another light sanding and painted the kit with Testor's Silver #1246.
I did this mostly to protect the light ply from moisture and to aid in finding the model once it has landed.
The Pros of finishing would be that this model allows an endless number of possibilities of various paint schemes. There were no Cons noted during finishing.
Construction Score: 5
Flight
The recommended motors for this kit are:
Estes

C11-0, C11-3, D11-P, D12-0, D12-3, E9-4

AeroTech

Single Use - E15-4W, E30-4T, F32-4T
RMS - D9-4W, D15-4T, E18-4W, E28-4T, F12-3J, F24-4W
The rocket is prepared for flight by friction fitting the motor into the MMT tube. It is also to add a thrust ring to the motor using tape if it doesn't include one to prevent the motor from flying out the top of the motor tube during powered flight.
This rocket flew for the first time at our local FLASH launch. Marc of Rocketarium graciously gave me an AT F32T single use motor for the maiden flight. We were going to fly in a drag race but due to a bad Crapperhead igniter, my rocket stayed on the pad. I changed the igniter and this time I had a successful launch.
Flight Score: 5