Roger Smith's Page
AKA: jadebox

Location: Oviedo, FL

Certification Level: L2 NAR/Tripoli

Club Memberships: NAR,TRIPOLI,ROCK,NEFAR

Favorite Rockets: Estes Omega

Biography:

Roger maintains RocketReviews.com.

Roger, and his wife, Bracha, have built and flown some of the furriest rockets of all-time. Their "Big Daddy Akavish" is a spider-themed high-power rocket standing about four-foot tall on its eight legs.

Favorite Quote:

Science is a way of trying not to fool yourself. The first principle is that you must not fool yourself, and you are the easiest person to fool.

Personal Home Page: http://www.payloadbay.com/

Club Home Page: http://www.r-o-c-k.org/

Facebook Page: http://www.facebook.com/#!/jadeboxroger

Google+ Page: https://plus.google.com/101533115429153572785

RocketReviews.com Pages:
2018-06-18
Blog

RocketReviews.com is currently going through an update to make the pages more responsive and the site easier to use. This latest remodeling effort is the third or fourth time that I have tried to make a major change to the way that the web site looks and acts. All the previous efforts involved rewriting the code for the site from scratch. All of the previous efforts failed when I realized just ... [More]
2017-11-29
Regional Launches / (Turkey and) GRITS 2017
Photograph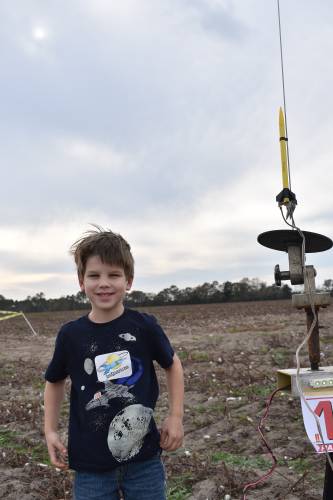 GRITS Launch
2017-11-28
Regional Launches / (Turkey and) GRITS 2017
Photograph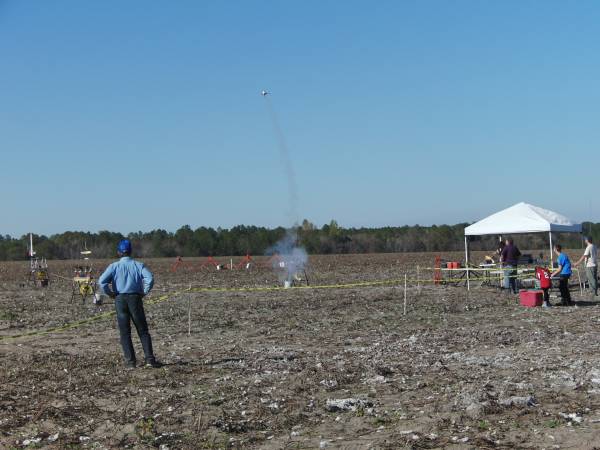 GRITS Launch 2017
2015-09-19
Don Sahlin – Muppet Designer and Rocketry Hobbyist
Blog

After briefly working as a puppeteer and builder for The Howdy Doody Show then working on stop-motion films (including projects with George Pal), Don Sahlin began working with Jim Henson in 1962. Henson hired Sahlin to create a Muppet of a dog character, Rowlf, for Purina Dog Chow commercials. Rowlf when onto become the singer's side-kick during the four-year run of The Jimmy Dean TV show. ... [More]
2015-05-31
2015 National Sport Launch Photos and Video
Blog

The Rocketry Organization of South Carolina at Orangeburg (ROSCO) hosted the National Association of Rocketry's 2015 National Sport Launch over Memorial Day weekend. The three-day event featured flights by rocketry enthusiasts from around the world. [View More of Roger and Bracha Smith's Photos of NSL 2015] Saturday's weather featured bright blue skies and a bit of wind. [View ... [More]
2014-11-08
Flight

L1115 - NEFAR - Clegg Sod Farm [More]
2014-10-27
Rocket4TheCure – New World's Record As Teens Launch Almost 4000 Rockets at Once
Blog

On October 26, 2014, High school students Sanzio Angili and Dylan Whitesel of Chesterfield, Virginia, raised $20,000 for the Susan G. Komen Foundation and broke a world record by launching 3973 model rockets at one time. Supporters sponsored the event by donating $10 for each rocket, many of which were labeled with the name of a person being honored or remembered. The two students, along with ... [More]
2014-10-13
Blog

From Scott Johnson: "So I was painting my Flutter-By (Centuri Style); doing 10 minute intervals of red paint. In between painting, my Flutter-By was caught by a spider…" See: http://www.rocketreviews.com/flutter-by-caught.html [More]
2014-10-11
Flight

Nice, almost straight-up, boost. The front section wasn't trimmed quite right and came in nose-down. It broke the strut, but it's nothing that a little wood glue won't fix. - D12-3 - NEFAR - Clegg Sod Farm [More]
2014-09-25
The Naked Gun: "Special Thanks to : Tripoli Rocketry Association"
Blog

"It's the same old story. Boy finds girl, boy loses girl, girl finds boy, boy forgets girl, boy remembers girl, girls dies in a tragic blimp accident over the Orange Bowl on New Year's Day." Watching the 1988 film The Naked Gun: From the Files of Police Squad! via Amazon Prime the other night, I was surprised to see the following scroll by during the end credits: Special ... [More]
2014-09-06
Flight

Rocket went unstable off the launch rod. It looks like it needed some nose weight. - A8-5 - ROCK [More]
2014-07-27
CSXT Celebrates 10th Anniversary of Amateur Space Launch By Doing It Again
Blog

In May of 2004, the Civilian Space Exploration Team (CSXT) launched a 21-foot long rocket to an altitude of 72 miles. The "Go Fast" rocket became the "first American civilian sounding rocket to reach outer space" and the first verified launch into space by an amateur group. To celebrate the tenth anniversary of the achievement, the CSXT did it again. The rocket carried a ... [More]
2014-07-23
Blog

On Juky 22, KTVN Channel 2 aired a new story about Reno Rocketry, the Northern Nevada chapter of Tripoli.   The station's videographer placed GoPro cameras under and near the launch pads to obtain dramatic video of the launches. The "drag race" shot was accidental. "User error" resulted in several rockets launching at once.   [More]
2014-07-07
Presidio, Texas, Rocketry Teacher Gets Green Card
Blog

Two years ago, Shella Condino, a Texas teacher known for using rocketry to inspire and educate, received a letter from the US Immigrations Service saying, "You are not authorized to remain in the United States and to depart as soon as possible." A Texas congressman investigated and learned that the letter had been sent by mistake. Shella Condino now has a "Green Card" and ... [More]
2014-02-22
Flight

L1395 - GRITS Winternationals [More]
2013-11-20
Bigger Big Daddy Akavish - Video of the Bigger Big Daddy Launch
Build Entry

[More]
2013-11-10
Flight

I180-5 - NEFAR - Clegg Sod Farm [More]
2013-11-09
Flight

A beautiful flight! The rocket soared from the pad with a huge flame under it. At apogee, the parachute deployed and it landed successfully in the field. - NEFAR - Clegg Sod Farm [More]
Bigger Big Daddy Akavish - Success!
Build Entry

[More]
2013-11-03
Bigger Big Daddy Akavish - Ground Tests
Build Entry

Bracha crafted a beautiful parachute deployment bag out of a Top Flight Parachute protector and some tubular nylon. The bag is tubular in shape because it wraps around the motor tube inside the body tube. We tested it by stuffing the parachute in carefully. Then Bracha held onto the ... [More]
2013-10-31
Bigger Big Daddy Akavish - Counting Down ....
Build Entry

We're getting close to the first launch. Bunnell Blast 2013 is less than two weeks away. We're finishing up just a few things. I realized that the square dowel that holds the rail buttons is closer to the nozzle of the motor than I had thought it would be. So, I cut a peice of aluminum and ... [More]
2013-10-20
Bigger Big Daddy Akavish - He's Got Legs ... (8)
Build Entry

Bracha finished covering the legs with fur. Bracha sewed the fur into tubes - inside-out to hide the seam. We turned the tubes right-side out then slid them onto the legs. We used multiple tubes per leg because it's almost impossible to turn one right-side out if it's length is longer than ... [More]
Bigger Big Daddy Akavish - Rail Buttons II
Build Entry

The top rail button screws in after the square dowel "rail button holder" is inserted into the rocket. It needs a stand-off to line up with the other rail buttons. I created the stand-off using a nut and a few washers. With the top rail button in place, I tested the alignment using a 1515 ... [More]
2013-10-11
Free Android App Measures Diameters
Blog

A new Android app which measures diameters may be useful to rocketry hobbyists. ON Diameter is a free app which measures the diameter of an object such as a model rocket body tube. You place the object to be measured anywhere on your Android device's screen then move three cross points to align with the object's boundary. The object's diameter and area will be shown on the ... [More]
2013-09-28
Bigger Big Daddy Akavish - Fur and Away
Build Entry

or ... A Bridge Too Fur ... no? ... The Hunger Games: Catching Fur? Anyway ... here's an update on our progress building the Big Daddy Akavish Mark II. Bracha and I spent some time in fabric stores and looking online to find the perfect faux fur to cover the new Big Daddy Akavish. We ... [More]
2013-08-22
Bigger Big Daddy Akavish - Holey Akavish, Batman!
Build Entry

Although Bracha keeps reminding me that real spiders don't have big Muppet eyes, all of our Akavishes have. And, this one is no different. Then we glued two half foam balls into the newly formed eye sockets. Finally, we covered most of the rocket with black paint. And ... It's ... [More]
2013-08-10
Bigger Big Daddy Akavish - Feet
Build Entry

We bought 10 "uncoated foam balls" to use as feet. These are similar to the balls we used as feet on the previous Big Daddy Akavish. But, at 8" in diameter, they are bigger and they are made of a different kind of foam. I used the drill press to carefully cut a hole in each ball. We ... [More]
Bigger Big Daddy Akavish - Fiberglass
Build Entry

We covered the foam parts with a couple layers of fiberglass. We used light fiberglass cloth cut into small strips and applied it like paper mache. I didn't take any photos because it was rather messy. Since everything will be covered with paint and fur, we didn't go overboard trying to be neat. [More]
2013-07-30
Bigger Big Daddy Akavish - Maybe Not So Big?
Build Entry

Looking at the size of the new Akavish's head, I think the rocket won't look right if it's 6 1/2 feet tall. Our previous Big Daddy was a little less than 4' tall with a 12" diameter head. This one has a 16" diameter head, so it probably should be about 5 to 6' tall. We'll wait until the last ... [More]